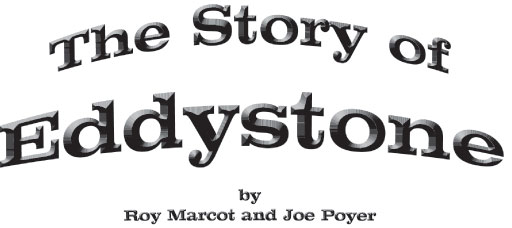 The Eddystone Rifle Works – Eddystone, Pennsylvania
| | | |
| --- | --- | --- |
| Most martial firearms collectors will tell you that Remington Arms Company made Model 1917 Enfield Rifles at Eddystone during World War I. However, few (if any) know the true story of the Eddystone Rifle Works or its actual relationship to Remington. A search through dozens of books dealing with this important WWI rifle | | disclosed that none had any definitive information about the factory or in Remington's actual involvement. This prompted a long-overdue research investigation that resulted in this… believed to be the first historical investigation into "Eddystone." This worthwhile project was prompted by the following letter to Remshots: |

Dear RemShots,

I believe I am correct that General Thompson designed and/or supervised the factory at Eddystone, Pennsylvania that during
WWI had a production capacity of 1,000 Model 1917 rifles per day. M1917 Rifles made at this arsenal are, as we all know, marked Eddystone. I have read this brief historical factoid in numerous books and magazine over the years.
Well here is something new… at least to me. I was reading about the Baldwin Locomotive Works – one of the largest manufac- turers of steam locomotives in the country. Baldwin had a factory in Philadelphia in the mid-1800s (almost 200 acres a few blocks north of what is now Philadelphia City Hall) and established a 600 acre factory in Eddystone. During WWI Remington contracted with Baldwin Locomotive Works to manufacture almost 2 million Pattern 14 and M1917 rifles, and, of course, this operation became what we all know of as the so-called Eddystone Arsenal. Apparently there was no Eddystone Arsenal, per se. In all of my years of being a well read gun-fanatic this is the first I've read that Eddystone was Baldwin Locomotive.
This may seem trivial but around here most people know nothing about Eddystone Arsenal, yet many people know about Baldwin Locomotive Works. There are still (I think) some of the buildings left just south of Philadelphia International Airport. I wonder if digging into the Baldwin Locomotive archives would yield any Thompson related discoveries?
Bob Griswald
Philadelphia, Pennsylvania
---
---

The Great War began in the summer of 1914, and soon engulfed nearly every European country, all of which were ill- prepared and ill-equipped to fight on this grand scale. Great Britain declared war on Germany on August 4th, much in need of infantry weapons, and the British went to America to order 3,400,000 Magazine Rifles, .303 inch, Pattern of 1914 from various arms makers. They appointed the firm of J.P. Morgan as their commercial agent in America to negotiate contracts for military rifles and bayonets. Eventually, these contracts were awarded to three companies:

Remington Arms Company of Delaware – Eddystone, Delaware – A contract for 2,000,000 rifles at $30.00 each.

Remington Arms and Ammunition Company – Ilion, New York – Three contracts for 1,000,000 rifles at $30.00 each.
Winchester Repeating Arms Company – New Haven, Connecticut – A contract for 200,000 rifles at $32.50 and another for 200,000 rifles at $30. 00 each.

On November 24, 1914, the Remington Arms and Ammunition Company (with factory at Ilion, New York) received a contract from the British Government to manufacture 200,000 military rifles – Magazine Rifles, .303 inch, Pattern of 1914 and Pattern 1913 sword-bayonets with Pattern 1907 metal scabbards. [Note: Report on WWI production by Remington VP J.E. Brennan, dated August 17, 1927.]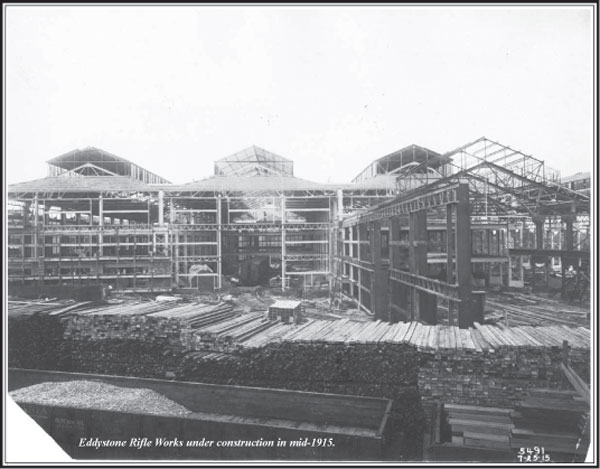 ---
---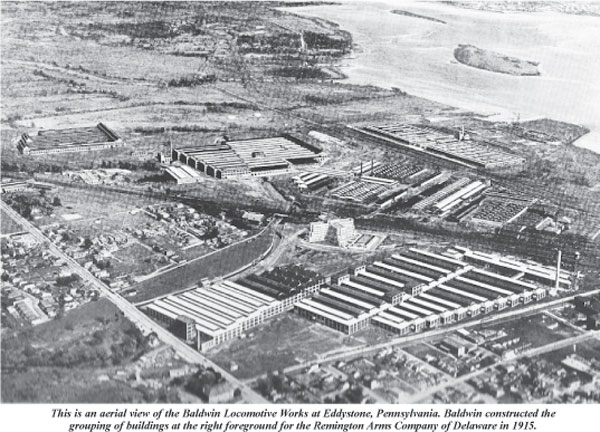 On February 10, 1915, Remington received a second contract for 200,000 more rifles. And on September 27, 1915, they received a third contract for 600,000 additional rifles. These contracts encouraged Remington management to raze many existing, antiquated factory buildings in Ilion and construct new ones in 1915, totaling more than a million square feet of manufacturing and office space. With construction completed, on March 25, 1916, work began in Ilion on the .303 Pattern 1914 Mk I rifles for England. An average rate of production of 1,000 rifles per day was eventually achieved, with the greatest rate of production of 2,000 rifles in one day on March 10, 1917. Production in Ilion ceased on these rifles in mid-1917.

Even while plans were underway to enlarge Ilion's manufac- turing capacity in 1915, Marcellus Hartley Dodge, Chairman of the Board at Remington, decided to organize a new company, the Remington Arms Company of Delaware. He convinced the management of the Baldwin Locomotive Works at Eddystone, Pennsylvania, to construct new buildings, and to lease them to the new arms manufacturer. Construction took place in 1915, and the completed buildings were leased to the Remington Arms Company of Delaware. This new complex was immense, with over 33 acres of floor space. Baldwin made sure that the buildings were designed so that at the end of the lease they could be reclaimed by the Baldwin Works and utilized as locomotive shops. [Note: The Baldwin Locomotive Works – War Industries. Record No.93. – page 13.]

Colonel John T. Thompson (who later became famous for developing the Thompson sub-machine gun) resigned from the U.S. Army to become Chief Engineer to oversee the construction of the new Remington facility in Eddystone. This vast manufacturing complex soon became one of the largest arms factories in the world. Colonel Thompson remained in management as Works Supervisor at Eddystone until he re-entered the service, eventually being promoted to Brigadier-General and Chief of the Small Arms Division of the Office of the U.S. Army Chief of Ordnance. He was appointed Director in Charge of Arsenals, and was responsible for all small arms production. [Note: The Ultimate Thompson Book, pages 4-5 and 12-13.]

On June 15, 1916, the Journal of Commerce reported:


"The Remington Arms Company plant at Eddystone has begun to ship rifles after a year's activity. Up to the present time the company has shipped 2,500 rifles. The company expects to ship a carload of rifles daily within three weeks."


Four months later on October 17th the New York Sun reported:


"The Remington Arms-Union Metallic Cartridge Company has discharged about 1,500 of 15,000 employees at their Eddystone Plant."

---
---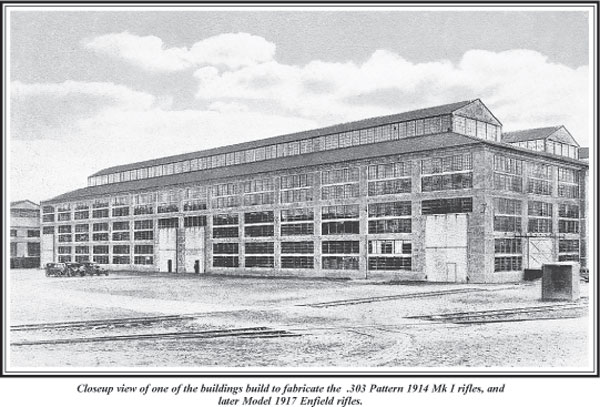 During the war thousands of men and women were needed at the major manufactur- ing facilities in Eddystone, including those employed at the Eddystone Rifle Works, the Eddystone Munitions Company, and at the existing Baldwin Locomotive Works. Between 1910 and 1920, the population of Eddystone, Pennsylvania tripled from 800 to about 2,400. Following the Great War, the population of this community continued to increase to about 2,900 in 1923. [Note: Eddystone Centennial – 1889 to 1989, not paginated.]

In 1916, Marcellus Hartley Dodge sold his company's interest in the Remington Arms Company of Delaware and in the military contract for rifles to the Midvale Steel and Ordnance Company, taking in return 400,000 shares of Midvale stock of $20,000,000 par value. [Note: New York Sun, November 24, 1916.]

| | |
| --- | --- |
| On November 22, 1916, an agreement was reached between the British Govern- ment and Rem-UMC, Midvale Steel & Ordnance Company, and the | |

Winchester Repeating Arms Company whereby the three American factories would reduce the number of .303 Pattern 1914 Mk I rifles to 2,000,000, not the 3,400,000 rifles originally on order. Eventually, the Eddystone Rifle Works would fabricate 604,941 .303 Pattern 1914 Mk I rifles for Great Britain, while Remington's Ilion plant manufactured 403,193 rifles.

In December 1916, a new bolt with a longer locking lug was approved for the .303 Pattern 1914 Mk I rifle. This necessitated a new barrel with a deeper recess for the lug. These new rifles were designated the Mk I*E (for those manufactured at Eddystone) and Mk I*R (Remington) and Mk I*W (Win- chester). In today's collector market, original, unaltered P-14 Mk I rifles are rarely encountered, as few were made and many of those were converted to Mk I* configuration.

While Eddystone-produced .303 Pattern 1914 Mk I rifles met the strict standards demanded by British Ordnance Inspectors, their Pattern 13 bayonets did not. While documentation is fragmentary, it is believed that Eddystone-produced bayonets were not accepted. One such post-war report stated: One U.S. contractor failed so badly as to have to give up attempting the production [of Pattern 13 bayo- nets] altogether.
---
---
As it was, no Eddystone-produced Pattern 13 bayonets are known. [Note: The U.S. Enfield – Ian Skennerton, page 59.] It is possible that bayonets produced by Remington in Ilion were substituted. [Note: Skinnerton, page 63.]
A total of 1,235,298 .303 Pattern 1914 Mk I rifles were produced by the three American manufacturers, although the average cost differed from the initial contract price:
Remington Arms Company of Delaware – 604,941 rifles at $43.75 each including bayonet – sic.
Remington Arms and Ammunition Company – 403,126 rifles at $28.38 each including bayonet .
Winchester Repeating Arms Company – New Haven, Connecticut – 225,008 rifles at $36. 82 each.


Specifications of Magazine Rifles, .303 inch, Pattern of 1914
Manufactured at Eddystone


ammunition ………………………
.303 British centerfire
barrel length ………………………
26-inches
caliber ………………………………
.30 inch
front sight …………………………
blade sight, adjusted laterally.
magazine ………………………….
holds five cartridges
markings ………………………….
ERA stamp in an oval on the receiver ring A roundel stamped on right side of butt stock with Roman numeral I and E (for Eddystone), and PATT. 14 stamped below the circle, and a broad arrow acceptance mark above the circle. Major components are stamped E
rear sight …………………………
tangent back sight with aperture on slide and aperture fixed sight; and a long- range volley sight on left side
rifling ……………………………….
Enfield pattern – 5-grooves
weight of rifle …………………….
9lbs/6 oz.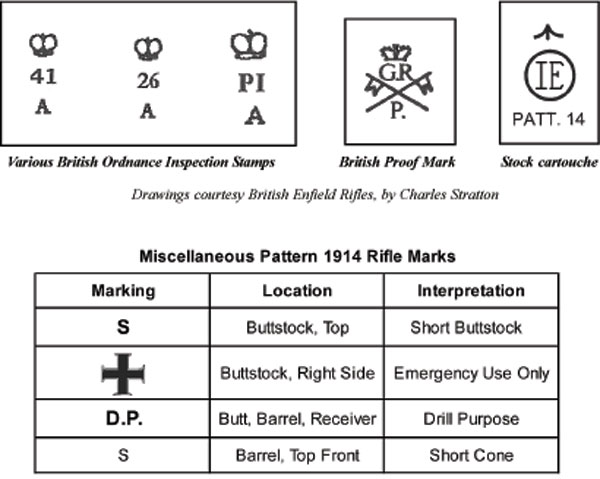 ---
---

Although the war in Europe had been going on since mid-1914, the United States did not declare war on Germany until April 6, 1917. Millions of rifles would be needed to arm its troops, as America had only about 600,000 Model 1903 Springfields and 160,000 obsolete Krag rifles on hand. There were not enough infantry rifles for the American Expeditionary Force bound for France. Besides the Springfield rifles being made at Springfield Armory and at Rock Island Arsenal, Illinois, it was decided to adapt a variation of the .303 Pattern 1914 Mk I rifle for U.S. troops.

| | |
| --- | --- |
| The U.S. Government turned to the following arms makers to produce these infantry weapons: Remington Arms Company of Delaware (Eddystone, Delaware); Remington Arms Union Metallic Cartridge Company (Ilion, New York); and Winchester Repeating Arms Company (New Haven, Connecticut). | |

The initial contracts were signed by the three companies with many un- knowns, especially in regards to inter- changeability of parts. The contracts, therefore, were "cost plus 10%."

Winchester was awarded a contract for 225,000 rifles on June 1, 1917; and a contract for 100,000 more rifles on December 11th.
Remington was awarded a contract for 300,000 rifles on June 1, 1917; and a contract for 250,000 more rifles on December 11th.
Eddystone was awarded a contract for 450,000 rifles; and later another contract for 250,000.On April 4, 1917, representatives of these three companies held their first meeting in the Woolworth Building in New York City (the offices of Rem-UMC).
"The object of the meeting was to standardize, as far as possible, the materials from which the Enfield Rifle Pattern 14 is to be made for the United States Government. And also to standardize, as far as pos- sible, the changes necessary to adapt the Enfield Pattern 14 rifle to take the .30 Government 1906 cartridge."


The U.S. Army Ordnance Department accepted the modified Enfield rifle for the use of American troops on May 11, 1917. On June 11th, a conference was held in Washington with the three arms makers with input from the Ordnance Department. The initial contract wording was modified to include:


"The contractor, in conjunction with the other contractors, will arrange so that the dimensions controlling the interchange- ability of the following parts shall be in agreement."


.303 Pattern 1914 Mk I rifle production at Eddystone effectively ceased in mid-1917, as the plant re-tooled to begin making the U. S. Military Rifles, .30 caliber, Model 1917.

At this time the Remington Arms Company of Delaware employed 10,500 workers at Eddystone, but many were still working on completing the final batches of .303 Pattern 1914 Mk I rifles. Employ- ment decreased to 3,917 on July 15, 1917, but gradually increased to a maximum of 15,409 men and women on September 27, 1918, all working on the U.S. Model 1917 rifles .

In April 1918, the Eddystone Rifle Works hired its first women for produc- tion tasks. Within five months, three thousand (or 19% of those employed here) were women. This hiring was essential because many younger, able- bodied men were being drafted into military service.

On January 2, 1918, the Remington Arms Company of Delaware was absorbed by the Midvale Steel and Ordnance Company. [Note: The Locomotives That Baldwin Built. Page 130.] Thereafter, the official owner of the Eddystone plant was Midvale, not Remington, and they referred to their facility as the Eddystone Rifle Plant.
---
---

| | |
| --- | --- |
| At the Eddystone facility the browning of barrels, receivers, bolts, guards, floor plates, upper and lower bands, front sight carriers, and butt plates were initially unsatisfactory, and this process required a huge outlay of manpower. The browning procedure was replaced by a process developed by the Parker Rust Proof Company. This new process came into full operation at Eddystone by September 1918, resulting in a decrease in manpower from 305 (for the browning process) to only 80 (for the Parkerizing process). | |
Production of U.S. Model 1917 rifles at Eddystone began on September 17, 1917, and this facility delivered its first order of 450,000 rifles long before the promised date of June 30, 1918. The second order for 250,000 rifles were also completed by that same date. Ordnance Department records state that the first Eddystone-produced rifles were accepted on October 1st. Just why this delay (between manufacturing and delivery) is not known. [Note: There is much disagreement among modern-day historians about the initial delivery date of these rifles.] The final delivery of U.S. Model 1917 rifles was made on March 8, 1919, for a grand total of 1,332,477 rifles. [Note: Other sources have put the total quantity produced at Eddystone at 1,181,908 , and another source quotes 1,352,862.]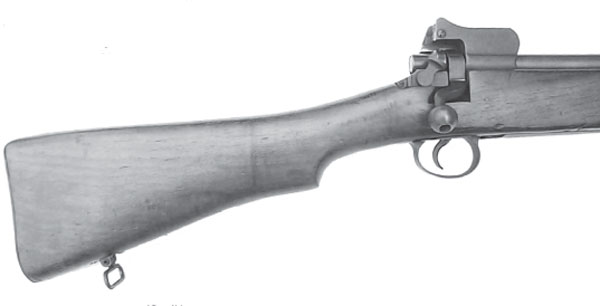 An armistice was arranged and fighting in the Great War was over on November 11, 1918.
Production was to have ceased at Remington's Ilion plant on December 23, 1918, and at the Winches-
ter plant on April 5, 1919. However, actual production of the rifles did not immediately stop, as the Ordnance Department allowed
production to continue for a few more months, as follows: Remington – until February 1919; Eddystone – until March 1919; and Winchester – until March 1919. In addition to the manufactured rifles, 1,352,862 spare rifle parts were produced at Eddystone.

---
---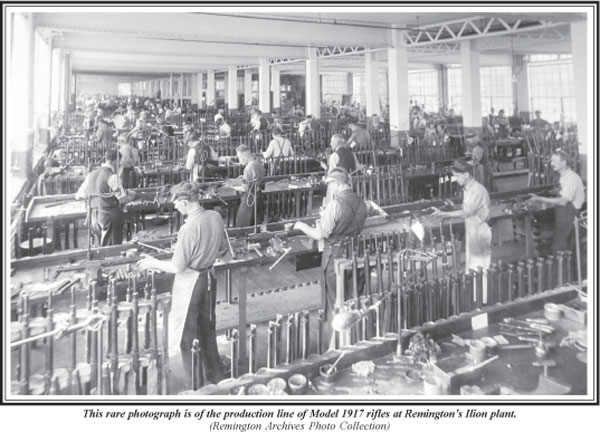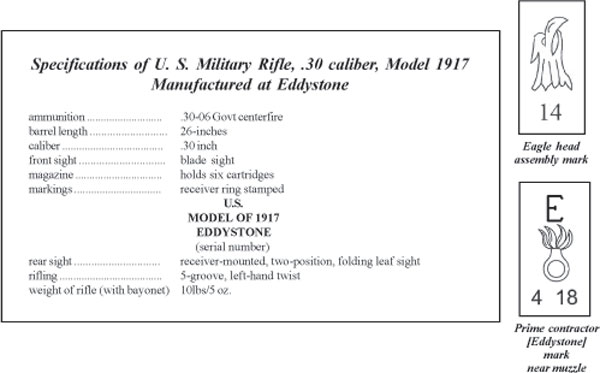 ---
---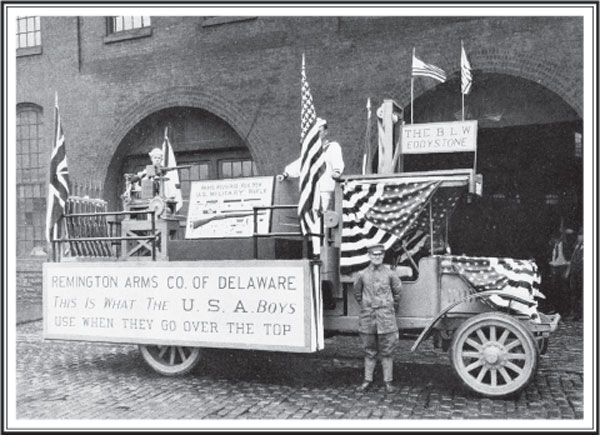 Some Statistics Regarding the Eddystone Rifle Works

The highest average daily production at the Eddystone Arsenal was 5,000 rifles, and the highest maximum daily production was 7,201 rifles.
At the peak of production there were 15,097 employees with a payroll of $402,817 per week. In addition, there were 1,317 government inspectors assigned to the plant.
Width of buildings ………………….. 1,040 feet
Length of longest bay ………………. 816 feet
Ground floor area …………………………. 18.2 acres
Total floor area of the plant …………. 33.6 acres
Area inside of fence …………………….. 34.5 acres
Length of fence around plant ……….. 5,300 feet
Volume in main building and stocking shop
………………………….. 46,940,000 cubic feet
Number of panes of glass ………………… 174,096
Miles of railroad track in plant ……….. 1.4 miles
The equipment and stock in this plant which was inventoried and which is to be moved by the U.S.
Government, would fill 2,150 freight cars, making a solid train 16 miles in length.

The pipelines in the plant, if combined in one length, would reach from Philadelphia to Trenton.
The belting in the plant if stretched end to end, would reach from Philadelphia to New York.
The steel shafting measured 9.1 miles in length.
456 electric and hand trucks and 8,675 racks on wheels
moved product through the shop.
2,093 bench vices were in use.
327 motors furnished the driving power.
A rifle stock blank has a peculiar shape and requires 8 board feet of lumber for cutting.
It requires one walnut tree for every 28 stocks, and to cut
the above quantity of stocks, 53,333 trees would be required, or 3,137 acres of walnut trees. While this plant was in operation, 320 walnut trees were cut into gunstocks
for shipment here each working day.
The compilation of the inventory in the Eddystone Plant
comprised 45,500 written pages.
5,175 China plates were used in the company restaurants which would feed 2,500 persons per day.

---
---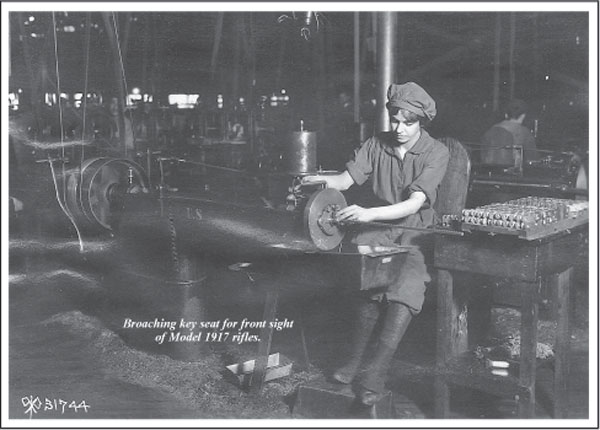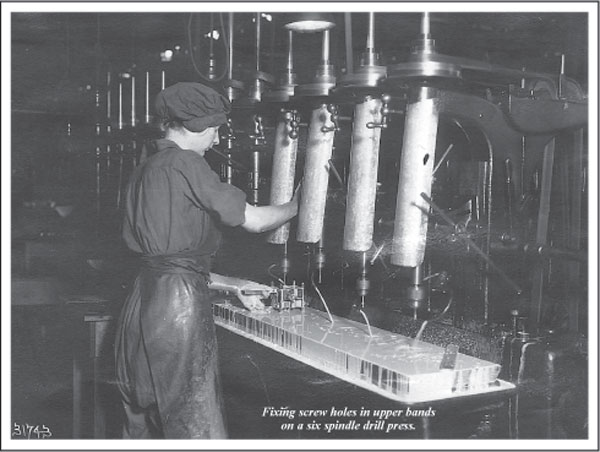 ---
---

---
---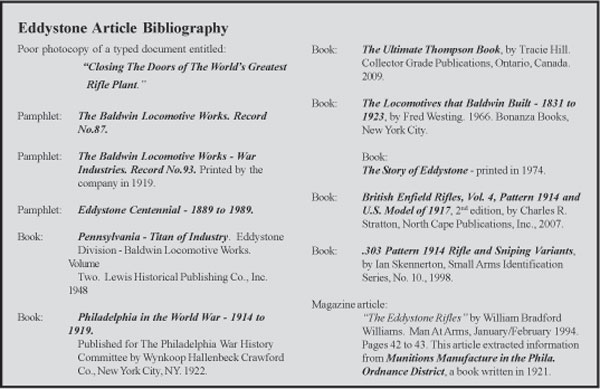 ---
---