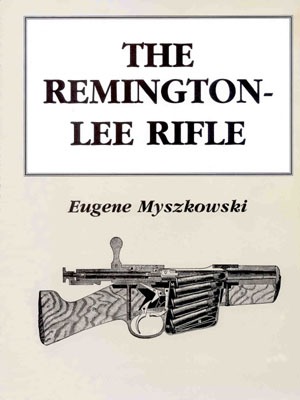 THE REMINGTON-LEE
RIFLE
by GENE MYSZKOWSKI


This is the most
comprehensive story ever written about Remington-Lee
Rifles and Carbines
and the story of its inventor, James Paris Lee.
Author: Gene
Myszkowski
Soft-cover – 104 pages – black & white illustrations
Copyright 1994 by Eugene Myszkowski

The Remington-Lee Rifle
book features detailed descriptions, including serial
number ranges, of each model from the first Lee Magazine
Rifle produced for the U.S. Navy to the last
Remington-Lee Small Bore shipped to the Cuban Rural
Guard.
Additional topics include a history of the early
development of the detachable box magazine, changes to
the construction of the Lee bolt, and details on U.S.
Army and Navy purchased Remington-Lee rifles. The book
also features a quick identification guide to all models
and major contracts.
The Chapters include:
"Lee Box Magazine Development"
"Description of Rem-Lee Models"
"Model 1879 Lee Magazine Rifle"
"Remington-Lee Model 1882 Rifle"
"Remington-Lee Rifle Conversions"
"Remington-Lee Model 1885 Rifles"
"Remington-Lee Model 1899 Rifles"
"Remington-Lee Sporting & Target Rifles"
"Hartley & Graham Military Sales"
"About the Inventors"


This fine book is available through the author for $22.95 plus $2.50 shipping.
Signed by the author if desired. Send check (made out to Eugene Myszkowski) to:
Gene Myszkowski
22 Fayy Lane
Palm Coast, FL 32137
genejan61@att.net