---
---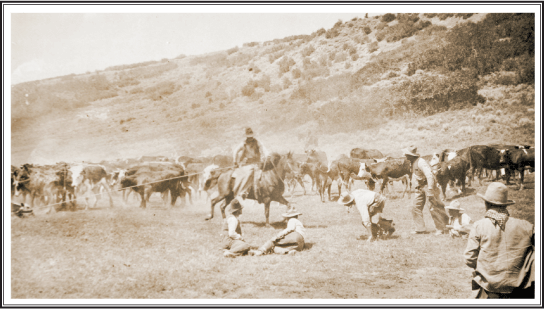 This is a timeline that compares the development of both the Remington rolling block rifle and the caliber .50-70 cartridge with the progress of the Nelson Story cattle drive. Table 2 is a chronology of the development, production and sale of the Civilian Model Remington Split-Breech Carbines in caliber .56-.50 Spencer rimfire that was produced at the end of the Civil War.

Nelson Story was born in 1838 in Meigs County, Ohio. His father, Ira Story, was of Scotch descent and
was born eight miles west of Shaker Village, New Hampshire. He married Hanna Gile in 1832, who was of English parentage. She died in 1854. Nelson helped his father with the farm and received some college education. He did not graduate due to his father's death in 1857. Nelson taught school in Ohio in 1857, moved to Illinois and on to Nebraska City in 1858. In 1859 he moved to Leavenworth, Kansaswhere he was employed by Jones & Company. He went with the first freight wagon train by the Smokey Hill route to Denver, arriving there on June 5th. Later in June, hearing about a gold strike, he and three other young men went to the Gregory Mines south of Helena, Montana Territory. They purchased claims at Nevada Gulch, but had poor success during the rest of the summer. In October 1859 they returned to Leavenworth. (endnote 3)

In May 1860, Story drove freight wagons to Breckenridge by way of Denver. These were the first wagons ever taken to nearby Blue River, and they arrived in July 1860. He continued to drive wagons from Leavenworth to Denver and sold goods there until March 1863. That same month he returned to Leavenworth and married Ellen Trent.

They departed for Bannack, Montana to run a store, arriving there June 4, 1863. Later that month they got word of the Alder Gulch gold discovery. Story and two hired men with 14 pack animals followed the trail to the future site of Virginia City, built and staked claims. He went back to Bannack for Ellen and the supplies and returned to his claim. Nelson worked the claim and his wife had a good supply of dried fruit, flour and other staples, baked pies and bread to sell to the miners. Her pies sold for five dollars in gold dust! In July 1863, the upper part of Alder Gulch had a big gold strike. The Story's moved to the summit for merchandising and claims through spring 1864. In the summer of 1864 Story opened his new mines and employed 50 men day and night until 1865, and he netted about $50,000! Nelson and Ellen Story settled in Bozeman. (endnote 3)

In 1865 the thirty 0ne year old Nelson traveled day and night for one month with $30,000 in gold on the Ben Holladay's Overland Stage Line via Salt Lake City to Denver and the Smokey Hill route on the Butterfield Overland "Despatch" to Atchison, Kansas. He shipped the gold by express to a New York bank. He traveled to Meigs County, Ohio to visit with his two brothers. After a short stay He continued on to New York City. A shortage of gold in the eastern banks allowed Story to sell his for $127.50, converting the $30,000 in gold to $40,000 in greenbacks. Story visited several eastern cities before returning to Leavenworth. He traveled around the country, attending some government sales and visited Civil War battlegrounds near Nashville. (endnote 3)
---
---
Story approached two of his friends in Leavenworth about joining him on a cattle drive to Montana. They came to an agreement and planned a trip to Texas to buy cattle. In early 1866 they hired two men and departed Leavenworth with government sale wagons and stock. Story had sewn greenbacks into his coat. He located and purchased cattle a few miles north of the present location Fort Worth. The number is controversial and depends upon which account is believed, 6003, 1,000 (endnote 5) or 3,000(endnote 4) (endnote 5). The one account that this author tends to accept is from a 1912 interview of John Catlin who joined the drive in Laramie. He stated that it was 3,000 head (endnote 4). Story hired 21 Texas drovers for a total of 26 to 30 men for the drive. Several cattle drive historians have verified that this number of drovers was more than adequate to trail 3,000 head of cattle. The general rule was four drovers for each 1,000 head of cattle (endnote 6).

This would leave enough men to handle the freight wagons, chuck wagons and other duties on the train.

The drive started in early spring and crossed the Red River into Indian Territory north of Dallas. They followedthe Neosho River to the Kansas border, probably just south of Humbolt, about 55 miles north of the present Kansas/ Oklahoma border. Note that in 1866, the most southern row of Kansas counties were also Osage Indian lands

Many of the eastern Kansas counties were well populated, had established farms and ranches and were afraid of diseased cattle infecting their herds or trampling crops. Most of the southern border counties in eastern Kansas had "no cattle drive" ordinances. In mid June Story trailed the cattle two counties farther west. He tried to turn north through Greenwood County where he was arrested.
This was reported in the June 23rd Burlington Patriot weekly newspaper. Story was taken to Eureka, the county seat, fined $75, and directed to drive his cattle out of the county. The Greenwood County Sherriff at that time was R. R. Turner. They trailed another sixty miles west to a point south and east of present day Wichita in Otoe (now Sedgwick) County. They went north through Marion County east of Moore's Ranch and took the old Santa Fe Trail east to Burlingame where they turned north to Topeka. The drive crossed the Kansas River at Topeka on the pontoon bridge and trailed northeast to approximately twenty miles northwest of Leavenworth in the Delaware Nation, where the drovers camped and grazed the cattle. (endnote 3)
Story and several men went to Leavenworth on July 4th for more freight wagons and supplies for his store in Virginia City. Leavenworth at that time had two daily newspapers reporting the Sioux uprisings. Both papers, The Leavenworth Evening Bulletin and The Leavenworth Conservative also had daily ads by E. Remington & Sons offering revolvers, rifles, muskets and carbines sold through local gun dealers. The Leavenworth City Directory listed seven gun dealers and gunsmiths.(Following map) Shows route (in green) taken by Nelson Story in 1866.
---
---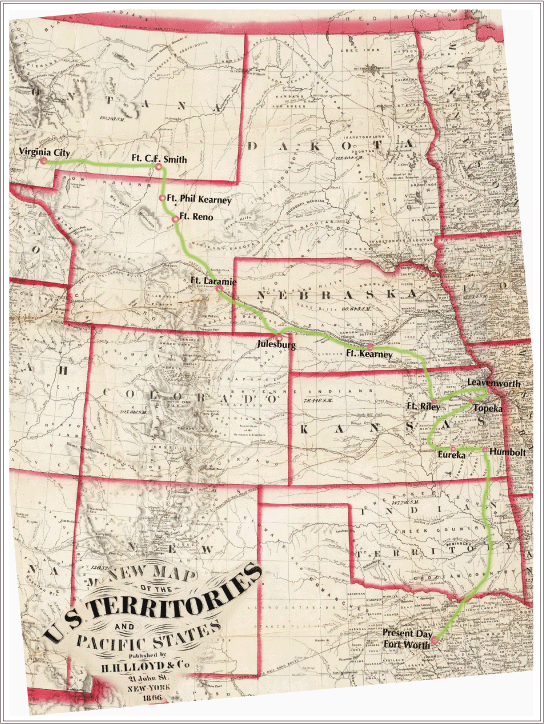 ---
---
The Leavenworth City Directory listed seven gun
dealers and gunsmiths! Some of their ads also appeared
daily. Story, no doubt thinking about the Sioux uprisings,
purchased thirty Remington breech-loaders with an ample
supply of .56-50 Spencer rimfire ammunition. Unlike
typical muzzle loading rifles with percussion cap, powder
and ball, these single shot breechloaders used a rimfire
cartridge and could be fired five to seven times a minute.
Nelson Story himself always holstered a pair of "big"
Navy revolvers (endnote 4). Some sources say that they
were Remington-Beals (fendnote 7) Navy Revolvers in .36
caliber. Story purchased fifteen freight wagons, loaded
them with groceries and merchandise and attached 150
head of oxen. They started for Montana on July 10, 1866,
trailing the balance of the cattle loose with fifteen head of
riding stock.
They trailed back to Topeka and followed the
Kansas River to just east of Fort Riley, turned north and
followed the Big Blue River to the Little Blue and northwest
into Nebraska. Near Fort Kearney they followed the
Oregon Trail along the south edge of the Platte River and
the Union Pacific construction past Fort McPherson. The
South Plate was followed to Julesburg where the Bozeman
Trail led them to Fort Laramie (endnote 3). There,
Army officers tried to talk them out of continuing because
of the Sioux uprisings led by Chief Red Cloud. While at
Fort Laramie, the Story party was joined by a former Civil
War Major, John B. Catlin and Steve Grover. Catlin and
Grover were driving a freight wagon with mules to Bozeman
and did not want to travel alone. Major Catlin was
placed second in command. They continued on toward
Fort Reno (endnote 4).
---
---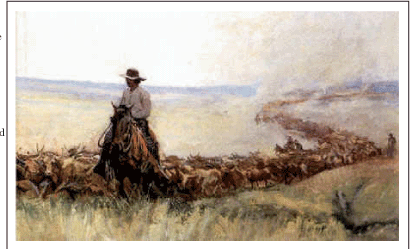 The area was alive with hostile Sioux Indian activity
and they were being watched all along the way. Indians
were led by both Red Cloud and Crazy Horse. Story's men
were not attacked until about ten miles south of Fort
Reno. It was a
hit and run
attack that
stampeded the
cattle and
small bunch
of them were
stolen. The
attack was
beaten off
when the
men responded
with their
Remington
carbines. The
drovers
stopped the
stampede by
quickly
running the
herd into a
circle.
"How many cattle did you lose?" Major Catlin was asked
in an interview. "Lose, we didn't lose a single head, we
just followed those Indians into the badlands and took
the cattle back." Three or four of the cattle were injured
and were later killed to furnish beef for the train.

During the initial attack, William Petty was
wounded by a bullet and George Overholt by two arrows.
The arrows were removed from Overholt's back with pincers.
Fearing that Petty would die, Thomas A. Thompson,
one of the drovers, volunteered to go to Fort Reno for an
ambulance to carry the wounded there. Catlin said that
one of the men was a Texan, who had been in charge of
the longhorns since the drive started. (His job was nicknamed
the "Ramrod.") Later that night, a Dutchman that
was subject to fits was said to have died of shock from the
fright of the previous day's fight (endnote 4).

The following day the drive pushed on to within
one quarter of a mile of Fort Reno to make camp and
located the cattle a half mile away. About ten AM one
of the two drovers with the herd reported that the other
had been killed by Indians and some of the cattle driven
away. Nelson Story immediately strapped on his two Navy
revolvers, mounted bareback and rode across the Powder
River near the cattle. He came across two of his men who
joined him in the pursuit of the hostiles. As they emerged
from the timber they saw three Indians running to the
main band that was driving thirty to forty head of his
cattle. Story and his two men pursued to within 200 yards
when they observed the Indians forming as to trap them.
The three turned and rode toward the cattle camp.

Near the camp, Story noticed that one of his men was nearly
surrounded and he turned back to help.
Their trouble was relieved when about twenty drovers on foot,
ran out of the camp firing their Remington carbines. Story,
with about twenty of his men, mounted their horses and followed
the Indians about fifteen miles in a running fight for three or
four hours. They returned around midnight with all but three
or four of the cattle (3) (4).

About
October 7th they were halted three miles south of the
partially completed Fort Phil Kearney. Story was told
that they would have to camp that far out because Col.
Carrington, Commander of the 18th Infantry Regiment,
needed the grass meadow near the fort for his army stock.
Col. Carrington ordered Story not to proceed as no party
smaller than fifty were to travel any further. Major Catlin
had this to say about the situation (endnotes 4 and 5).


"Here was our predicament. We were camped
three miles from the post, so far that the soldiers could
not have rendered assistance if we were attacked. We
were forbidden to proceed as the soldiers could not leave
their building (construction) operations to escort us. We
just had to sit there and twiddle our thumbs. There were
three miles of fine meadow grass between us and the
post. The troops had a few mule teams that were being
used to transport logs and hay and Col. Carrington had
one saddle horse that the Indians had not captured. That
three miles of grass was for the saddle horse I suppose.

(endnotes 4 and 5)

After waiting two weeks, Story decided to proceed
without Col. Carrington's permission. They took a vote on
it and all but George Dow voted for moving on. He was
arrested and placed under guard. They left after dark on
October 21st. The morning of the 22nd, Col. Carrington
was notified that the Story party had defied his order. He
was furious but felt that it was his duty to dispatch fifteen
soldiers to bring the party up to strength. After two days
George Dow was released and given the choice of going
back to Fort Phil Kearney or staying with the drive. He
chose to stay.
---
---
The soldiers with their muzzleloading
Springfield rifles were only
minimal help but they were
welcomed to join the drive. Trailing
at night and resting during the day
worked well and they were attacked
only two more times. They repelled
the raids easily with their Remington
carbines. They did lose one more
drover. He had carelessly ridden too
far ahead and was found killed and
scalped. (endnotes 4 and 5) The
Sioux had apparently become
discouraged with the lack of success
on their attacks.
Major John Catlin summed
up the man Nelson Story in an
interview with A.L. stone in 1912.
"Even after three years on the
skirmish line in the Civil War, I
have never seen a fighting man like
Nelson Story. He hunted a fight and
when he found it he knew how to
handle it. He never carried a rifle,
but there were always two big Navy
revolvers on his hips. He was always splendidly
mounted and would ride like the wind. He would say,
'Come on boys,' and ride away. Of course, we'd follow
him—we'd have followed him to hell—but accustomed as
the Civil War had made me to following almost any dare
devil leader, there were a good
many times when Nelson Story
had me guessing. The Indians
soon got to know him. Also they
feared him. They knew he would
go through with whatever he
undertook and they had no time to
bother with him." (endnote 4)
The remainder of the drive was
uneventful. They entered Montana
Territory near Fort C. F. Smith and
continued northwest to a crossing
on the Yellowstone River and into
the Gallatin Valley where the cattle
were located to graze. This would
be the location of the famed Story
Ranch.
So which guns did Nelson
Story furnish his drovers? As
both the Remington rolling block
and the centerfire .50-70 cartridge
were not produced until the Nelson
Story cattle drive was almost over,
I think that the readers will agree
with the writer's conclusion that the guns were Civilian
Model Remington Large Frame Split Breech Carbines produced
in 1866 from leftover parts, and chambered for the
caliber .56-50 Spencer rimfire cartridge.
END NOTES
Nelson Story Outfought Crazy Horse, The West, magazine, April 1970. J. L. Beardsley.
The Remington Historical Treasury of American Guns, The Sioux and the Rolling Block, H. L.
Peterson.
The Bloody Bozeman, The Perilous Trail To Montana Gold, Dorothy M. Johnson, 1983.
The Virginia City Trail, Ralph Compton, 1994.
History of Montana, Gallatin County. Personal History and Reminiscences, p 1163-1165,
Chicago, Warner beers and Co., 1885.
Following Old Trails, Arthur L. Stone, Missoula, MT, Morton John Elrod, publisher, 1913.
Annals of Wyoming, Burton S. Hill, Oct. 1964,Vol. 36, No. 2.
Gary Kraisinger, co-author, The Western, The Greatest Texas Cattle Trail. 2004.
Famous Guns That Won The West, James Wycoff, 1967
Kansas Map, 1866, Wichita Public Library, Special Collections.
---
---
Table 1.
1866 TIME LINE
REMINGTON BREECHLOADERS & .50-70 CTGE
NELSON STORY CATTLE DRIVE
– EARLY SPRING –
SMALL & LARGE FRAME SPLIT-BREECH
BREECH CARBINES ASSEMBLED
FROM SURPLUS PARTS IN BOTH
.44 & .50 RIMFIRE CALIBERS
STARTED NEAR OF FORT WORTH, TX
– JUNE 1866 –
FOLLOWED NEOSHO RIVER NORTH
THROUGH INDIAN TERRITORY

CATTLE DRIVE DIVERTED WEST BY KANSAS
JAYHAWKERS

– JUNE 14, 1866 –
SUMMER & FALL, E. REMINGTON & SONS ADS IN
LEAVENWORTH DAILY NEWS PAPERS INCLUDED
CARBINES [NO U.S. GOVT. SURPLUS SALE OF
REMINGTON CARBINES UNTIL NOVEMBER 1870]
NELSON STORY ARRESTED BY GREENWOOD
COUNTY SHERIFF AND TAKEN TO EUREKA
AND FINED $75 AND THE CATTLE DRIVE
WAS ORDERED TO PROCEED FARTHER WEST
(BURLINGTON PATRIOT – JUNE 23rd)
– MID-JUNE 14, 1866 –
7 DIFFERENT GUN DEALER ADS IN BOTH
LEAVENWORTH DAILY NEWS PAPERS & CITY
DIRECTORY
TRAILED WEST & NORTH TO SANTA FE TRAIL,
CROSSED KANSAS RIVER AT TOPEKA ON
ON PONTOON BRIDGE
– JULY 1866 –
CAMPED 20 MILES NW OF CITY OF
LEAVENWORTH
– JULY 4, 1866 –
STORY BOUGHT ADDITIONAL SUPPLIES,
15 FREIGHT WAGONS, 150 OXEN AND 30
REMINGTON LARGE FRAME, SPLIT BREECH
CARBINES AND A QUANTITY OF .56-50
RIMFIRE AMMUNITION
– JULY 10, 1866 –
CATTLE DRIVE DEPARTED LEAVENWORTH
– AUGUST/SEPTEMBER 1866 –
FOLLOWED OREGON TRAIL
---
---
– MID SEPTEMBER 1866 —
ARRIVED FT. LARAMIE, WYOMING. THE U.S.
ARMY TRIED TO PURSUADE STORY NOT TO
PROCEED NORTH BECAUSE OF HOSTILE
SIOUX UPRISING

CIVIL WAR VETERANS, MAJ. J. B. CATLIN AND
STEVE GROVER JOINED THE STORY PARTY

– LATE SEPTEMBER 1866 –
DEPARTED FT. LARAMIE ON BOZEMAN TRAIL
– OCTOBER 1, 1866 –
.50-70 CARTRIDGE APPROVED FOR MFG. AT
FRANKFORD ARSENAL
TURNED BACK SIOUX ATTACK 10 MILES
SOUTH OF FORT RENO. TWO WOUNDED SENT
TO FORT RENO
– OCTOBER 7, 1866 –
ARRIVED FORT PHIL KEARNEY
ARMY ORDERED STORY NOT TO GO ON
– OCTOBER 20, 1866 –
IMPROVED REMINGTON CARBINE (ROLLING BLOCK)
FIRST ADVERTISED IN THE ARMY & NAVY JOURNAL
DEFIED ORDERS AND LEFT FORT PHIL
KEARNEY IN MIDDLE OF NIGHT WITH 26
MEN
– OCTOBER 29, 1866 –
TWO SIOUX INDIAN ATTACKS BEATEN OFF,
STOLEN CATTLE RECOVERED LATER THAT
NIGHT
– NOVEMBER 1866 –
CONTINUED ON BOZEMAN TRAIL INTO
MONTANA TERRITORY
– DECEMBER 3, 1866 –
ARRIVED NEAR BOZEMAN, AND LEFT CATTLE AT WHAT LATER BECAME KNOWN AS THE STORY RANCH
– DECEMBER 9, 1866 –
STORY'S FREIGHT WAGONS ARRIVED AT
VIRGINIA CITY FOR THE STORY
MERCHANTILE STORE
---
---
TABLE 2.

CHRONOLOGY OF THE REMINGTON SPLIT-BREECH CARBINE
MILITARY MODEL SPLIT-BREECH CARBINE
14,499 LARGE FRAME, CALIBER .56-.50 SPENCER RIMFIRE AMMUNITION AND 5,000 SMALL FRAME CALIBER .46 MANUFACTURED BY SAVAGE REPEATING ARMS COMPANY FOR E. REMINGTON & SONS DURING THE CIVIL WAR.
ALL SPLIT BREECH CARBINES DELIVERED TO THE U.S. ARMY BY MAY 24, 1866.
FIRST SURPLUS SALE OF SURPLUS GOVERNMENT CARBINES AT LEAVENWORTH ARSENAL ON NOVEMBER 1866. HOWEVER, NO REMINGTON OR SPENCER CARBINES WERE OFFERED.
3,600 REMINGTON SMALL FRAME, SPLIT-BREECH CARBINES IN CALIBER .44 WERE OFFERED BY THE NEW YORK U.S. ARSENAL ON OCTIOBER 17, 1870. THEY WERE NOT BID UPON, NOR SOLD.
THE FIRST SALE OF REMINGTON SPLIT-BREECH CARBINES BY NEW YORK ARSENAL NOVEMBER 1870. SCHUYLER, HARTLEY & GRAHAM PURCHASED 14,757 LARGE FRAME, MOST IN CALIBER .56-.50, A FEW SMALL FRAME CARBINES IN CALIBER .44 . THE ARSENAL STILL HAD 310 ON HAND.
HERMANN BOKER & CO. PURCHASED 3,663 REMINGTON SMALL FRAME CARBINES CALIBER .44 BETWEEN APRIL 1875 – JANUIARY 1876 AND 382 LARGE FRAME IN CALIBER .50 FEB-MAR 1876.

CIVILIAN MODEL SPLIT-BREECH CARBINES

SOME SPLIT BREECH SPORTING RIFLES WERE ASSEMBLED BY E. REMINGTON & SONS FROM SURPLUS PARTS. NO SWIVELS OR SADDLE RING. KNOWN EXAMPLES INCLUDED STANDARD AND FANCY WOOD AND A FEW WITH A METAL FOREND TIP.
BOTH LARGE AND SMALL FRAME REMINGTON SPLIT-BREECH CARBINES WERE ASSEMBLED BY E. REMINGTON & SONS FROM SURPLUS PARTS IN .38, .44 AND .50 CALIBER.
LEAVENWORTH'S ™ TWO DAILY NEWS PAPERS RAN ADS FOR REMINGTON FIREARMS, INCLUDING CARBINES, THROUGHOUT THE SUMMER AND FALL OF 1866.
1866 LEAVENWORTH CITY DIRECTORY LISTED SEVEN GUN DEALERS/GUNSMITHS.
ONE LARGE FRAME, SPLIT BREECH MILITARY CARBINE IN AUTHORS COLLECTION IN CALIBER .56-.50. SADDLE RING ON LEFT SIDE, NO MILITARY INSPECTORS CARTOUCHE OR MARKS ON LEFT WRIST AND NO "U.S." ON BUTT PLATE. SERIAL NUMBER 11,750 STAMPED ON UPPER SURFACE OFLOWER TANG, PROOF MARKS ON UNDERSIDE OF BARREL BUT NO ARMY SERIAL NUMBER.
ONE LARGE FRAME SPORTING CARBINE KNOWN TO EXIST IN CALIBER .56-.50 WITH SERIAL NUMBER 16409 ON INSIDE AND 438 ON OUTSIDE. NO BARREL BAND AND HAS CRESCENT BUTT PLATE AND SMOOTH METAL FOREND TIP.
---
---