RSA SoCal Meeting Feb. 6, 2016
Presentation Notes, by Mike Strietbeck
………………………….
Here we are, Saturday February 6, 2016, and 12 cars pull into the parking lot at Carole Watson's Orange County Auctions in Irvine. Nearly all who walk across the parking lot are carrying either a long gun or hand gun or a briefcase of some sort and to the unfamiliar, we are a curiouslot to witness. No worry though, We are here for the RSA, Southern California collectors meeting with the goal in mind to share any newly acquired or particularly interesting item in our individual collections of Remington items. An addition to this, we get the opportunity to discuss any Remington Society business or information that we choose to discuss. Combine that with the opportunity to preview the items present that will be on Carol Watson's next auction, fresh coffee, and a light lunch after the meeting and you've got the makings of a perfect excuse to skip yardwork and get out of the house. And tht's how it is, approximately four times a year, all else is put on a back burner and the gang gets together.
This meeting was started by passing around the attendance sign in roster which is a crucial part of every meeting. It saves time for guys like me, and insures greater accuracy in writing notes for the meeting. We also send a copy of the roster to Bill Hansen so he can update his RSA membership records of any changes in address or phone numbers etc. Ed Hull gets a copy also so any changes in email addresses can be noted for use in advising members of the group of the next meeting date and time. All in all, the system works pretty good and most of the bugs have been worked out over the last three or four years of our meetings.
Ed Hull then coordinates the meeting and started by having guests of members, and new members introduce themselves. This meeting we had two guests, Patty Cote', wife of member Ed Cote' as well as Carolyn Covey, wife of member Ron Covey. Present for the first time was Steve Dethlefsen, son of recently passed Tom Dethlefsen, our friend and long time RSA member. Also present for the first time was Jim Bailey, who had been a member of the RSA in years past and wanted to take this opportunity to renew the association and sign up as a member again.
We had a couple of regular attendee's missing and I guess it's expected that the flu bug will do that to any group this time of year. Joe Poyer and Mike Lawler called in and Mike, recently elected to the RSA Board of Directors, asked that we all be notified that he has volunteered to assist Chip Kloos,recently re-elected to the RSA Board of Directors, in coordinating the 2016 RSA Seminar. Mike tells us that the seminar will be held around September 21, 2016 in Springfield, MO. and that he'd like to hear from any member who would like to do a presentation. Mikes contact email is "shotshelld@aol.com" Mike is a very accomplished researcher and speaker and can assist in guiding you through all facets of your preseentation preparation. That said, September will pop up before you know it and a good presentation does take some time so don't hesitate in contacting Mike. Following that, Bill Hansen (RSA Sec/Treas) and Jeff Veselnak (RSA director) filled in those who couldn't attend the annual meeting about what had transpired, including the re-election of Roy Marcot to the office of President, and the fact that we still have one slot open for a Directors position. The final RSA business discussion was on the status of the "Expert" list and any ideas that could be shared with Pres. Marcot to help complete this project.  I believe that Jeff will be communicating with Roy on that topic.
Then the floor was opened for the show and tell portion and Steve Detlephsen started with three of his large frame Frontier Revolvers, a Model 1888 and two Model 1890's.  Steve had a question about verifying the Model 1888 which concluded with Mike Strietbeck extending an offer to get with Steve and share data and photo's to answer that question. Ed Cote' then shared with us a whole slew of Remington shotshell reloading items. This included all of the tools used and a full flat of UMC primed but unloaded shotshells. Jim Howat shared a New Model Army revolver in the serial number 30000 range, without the "NEW MODEL" stamp on the barrel flat, leading us into the "Transition" model discussion. Tom Wallace brought in a very nice example of a NY State Militia Carbine, chambered in 50-70 and bearing period markings "F C" as well as non period inclusions of "Indian Tacks" in the wood. Ron Covey brought in a Model 76 lever action rifle and we enjoyed a healthy discussion about the very short throw of the lever action and the resulting speed in which this rifle could be fired. Also discussed was the injection molded Nylon stock and what color it was offered in. Yours truly sat quietly thru that discussion and upon arriving at home, looked it up and I'll reveal heare that the two colors offered were Mohawk Brown and Apache Black. Doug Drummond brought from his collection of fine Remington's, a Beals Navy revolver that after researching, Doug discovered that it was 1 of 400 of the first lot delivered under government contract during the Civil War. Jeff Veselenak sahared with us his most recent Remington acquisition, a Model 1871 Rolling Block Army housed in a modern case. This has to be one of the most beautiful standard 71's that I've ever had the pleasure of examining. The final item shared was brought in by Ed Hull and is  1 of 10,000 Swedish Rolling Block rifles manufactured by E. Remington & Sons, originally a rimfire rifle, later converted (as all were) to center fire. Ed has always been our "Go to" guy on Remington Rolling Block rifles and is one of the premier researchers in the antique arms field. Off the record, Ed also brought in a Peabody Westley rifle from the Army trials of breech loader rifles conducted in St Louis in 1871. At this point in time, it was evident that burgers and soft drinks were in order and the meeting ended this, another example of a gathering of the RSA, Sharing the History.
TO SEE THE BELOW PHOTOS IN GREATER DETAIL, CLICK ON THE PHOTO.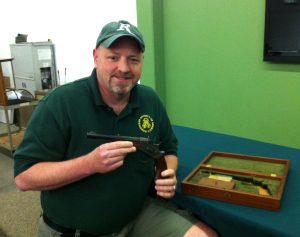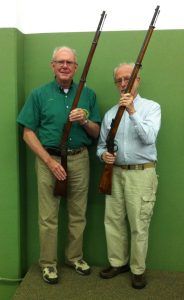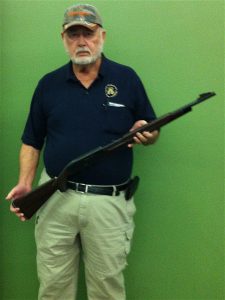 Our thanks go out to Carole Watson for allowing us to use her auction house for our meeting and we urge all of our members to review her website for upcoming sales.