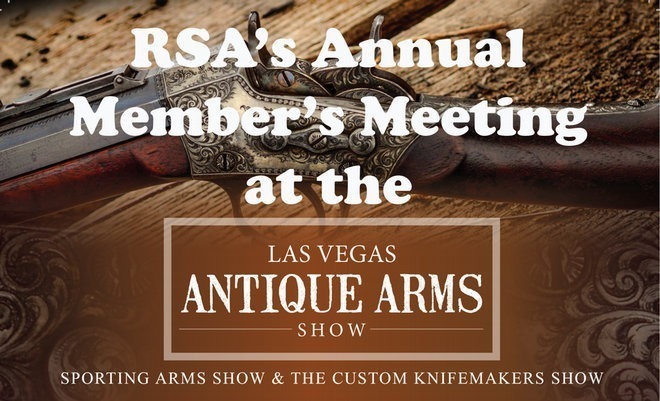 FRONT
Diane Taddeo
Ed Taddeo
Roy Marcot
BACK
Mike Lawler
Gordon Stanley
Jim Howat
Doug Drummond
Jeff Veselenak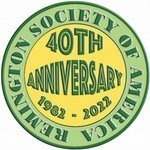 RSA's Annual Member's Meeting was held at the Las Vegas Antique Arms Show on Saturday evening, January 22nd. This get-together heralded the 40th Anniversary of the Remington Society of America, founded by its first President Fritz Baehr in 1982.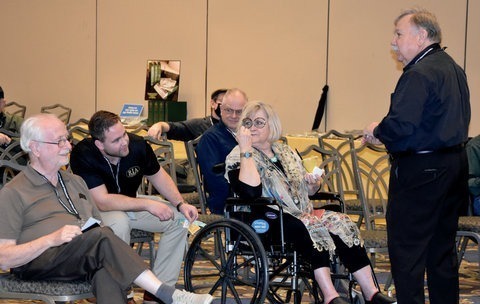 The RSA called upon western artist and RSA member Fred Fellows, who donated two "Artist's Proof" prints to be raffled off only to ladies attending the RSA Member's Meeting.
A drawing determined that the happy winners were
Teresa Shepler and Jean Love.
The RSA's Board of Directors had the last laugh at outgoing President Roy Marcot. Initially they presented Roy with a $19 faux "gold" watch to commemorate his 10 years as President. Stopping Roy from "walking into the sunset" was RSA Director George McAllister, who then presented Roy with a real gold watch!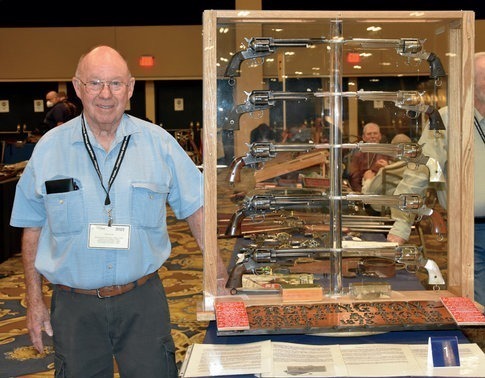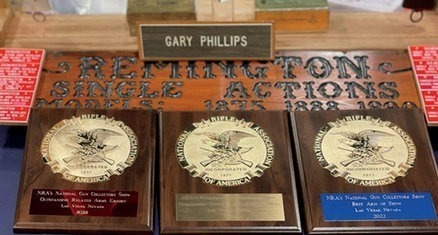 Here is a story that you will enjoy… At last month's Antique Arms Show, RSA Member Gary Phillips brought out his marvelous display of Remington Models 1875, 1888 and 1890 large-frame revolvers. Gary was unawa- re that the National Rifle Associationhad
chosen this event as its Annual NRA Gun Collector's Show, complete with its array of special awards. Enter Mike Alsop and George McAllister, who infor-med Gary "that he was going to enter his display into the NRA
Judging arena." Seems that Gary didn't have much of a choice…
When the smoke cleared, the NRA Gun Collector's Judges awarded Gary Phillips three of its top awards:
• BEST GUN IN THE SHOW – for his Remington Model 1875 Frontier Revolver – serial number 1
• MOST OUTSTANDING DISPLAY – for his array of ten of the most historic guns ever presented. Gary's display cabinet is a unique piece of work, allowing the viewer to rotate it to view both sides of Gary's revolvers.
• BEST SUPPORTING DISPLAY ITEM – for Gary's full box of E. Remington & Sons .44 centerfire ammunition!
Congratulation, Gary…
you did the RSA proud!