<!link media="screen" type="text/css" href="/css/lightbox.css" rel="stylesheet">
<!script type="text/javascript" src="/js/prototype.js">
<!script type="text/javascript" src="/js/scriptaculous.js?load=effects,builder">
<!script type="text/javascript" src="/js/lightbox.js">
Attractive store front window displays were once a store
owner's primary means of advertising to potential customers
and getting them to come into their stores. The displays were often
tied into the four seasons, with the winter season – Christmas – with the
most colorful window displays.
In the early 1900s, Remington Arms Company was a strong supporter of attractive
window displays and provided the hardware store owners with a large quantity of colorful
advertising materials. One of the primary responsibilities of the Remington traveling salesman was
to get the store owners to effectively use the advertising posters and diecuts given or sent to them.
The cost of developing and supplying these materials was high. The sporadic use of these materials
was a major concern to Remington management. As a result, a revision was made whereby salesmen
were given examples and booklets which included pictures of the advertising that was available for a
particular season of the year. A dealer could then order what they could use at no cost.
In 1922, Remington started a promotion called "Sportsmen's Week," which was usually about
the third week in October. The advertising provided to store owners pushed the sales of both
Remington firearms and ammunition for the upcoming hunting season. In conjunction with
"Sportsmen's Week" Remington initiated a window display contest that gave out cash prizes for
winning displays. To enter the contest the store owner had to send in a photo of his decked-out store
window to the Remington Arms Company. The cash incentive must have worked, as 35,000 window
display photographs were received in 1923!
The store front display photos shown in this article cover the period from about 1908 through
the 1960s, and portray some wonderful and imaginative examples of advertising. Some photographs are
directly from period images, while others are reproductions from period magazines, including Hardware
Age and the Saturday Evening Post.
With the advent of newer advertising technology and the predominance of the "big box
stores," window displays have virtually disappeared. Remington's old time window displays are surely
missed.
---
---






In the 1850s, it is known that Eliphalet Remington, the founder
of E. Remington & Sons, visited many of his customers in the
Northeast and Canada. His products were rifle barrels made in
Ilion and gun implements manufactured in Europe. Beginning in
1857 he also marketed his first civilian arms, Remington-Beals
pocket revolvers.

In the 1860s and '70s, Remington pistols, rifles, carbines and
shotguns were sold through E. Remington & Sons' primary
dealers in many of the major cities throughout America. It is
believed that Remington did not sell firearms directly to customers.
Without surviving records, it is not known if Remington sold
directly to gun shops, general stores, or hardware stores — or did
these retailers buy from Remington's major dealers.

Hardware stores became the primary means of selling sporting
firearms and ammunition in the early part of the 20th century.
Remington Arms Company and the Union Metallic Cartridge
Company both employed numerous salesmen to visit hardware
and sporting goods stores. Remington supplied the owners with many varieties of advertising signs and handouts.

This is the earliest photograph in our collection showing a hardware store front window display in 1908.
Images like this help us to date the advertising diecuts and signs.
Hardware Magazine – September 25, 1908.

---
---

Dating from the 1911 time period is this magazine photograph of a long forgotten store display window.
Outers magazine – August 1911

---
---
---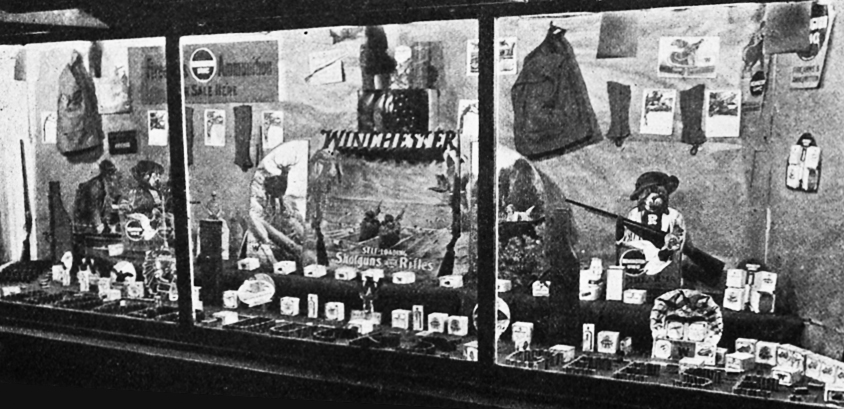 Gerlach Mercantile Company
Canadian, Texas
Hardware Age
November 1914

McGee Hardware Company
Winchester, Indiana
Hardware Age
October 8, 1914
H.W. Knight Hardware Company
Sedalia, Kansas
Hardware Age
September 10, 1914
---
---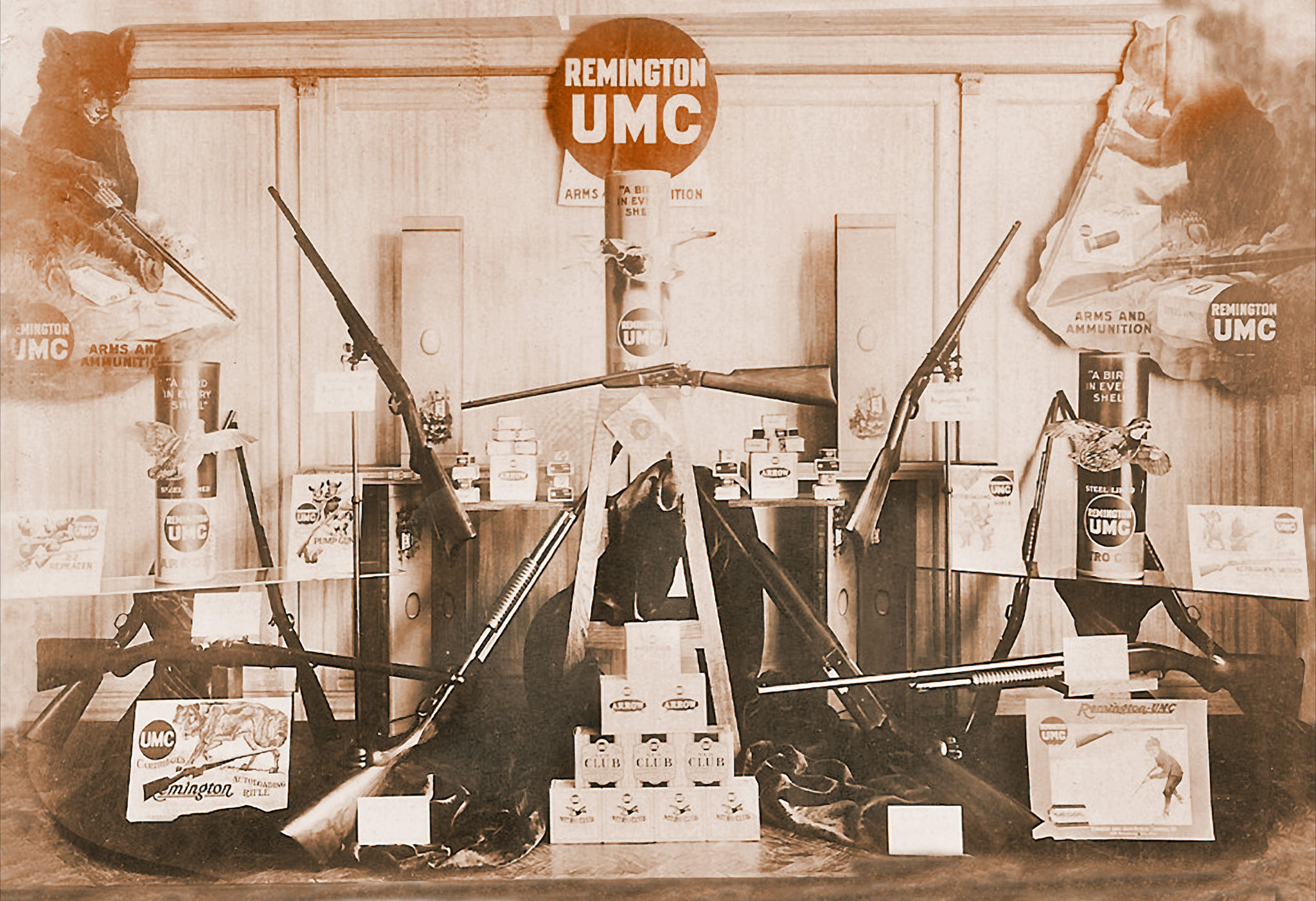 ---
---
| | |
| --- | --- |
| | This is one of the earliest known photographs of a storefront featuring Rem-UMC products. While the exact store and location are unknown, the original photograph is believed to date from the fall of 1912. Among the Remington firearms observed in this display are a Remington No.4 rolling block rifle, a No.6 falling block rifle, a Model 8 autoloading rifle, two Model 10 pump action shotguns, Model 11 autoloading shotgun, and two Model 12 small caliber, pump rifles. This storefront features a number of rarely seen Remington and Rem-UMC advertising signs and die-cut display items. Gordon Fosburg collection |
---
---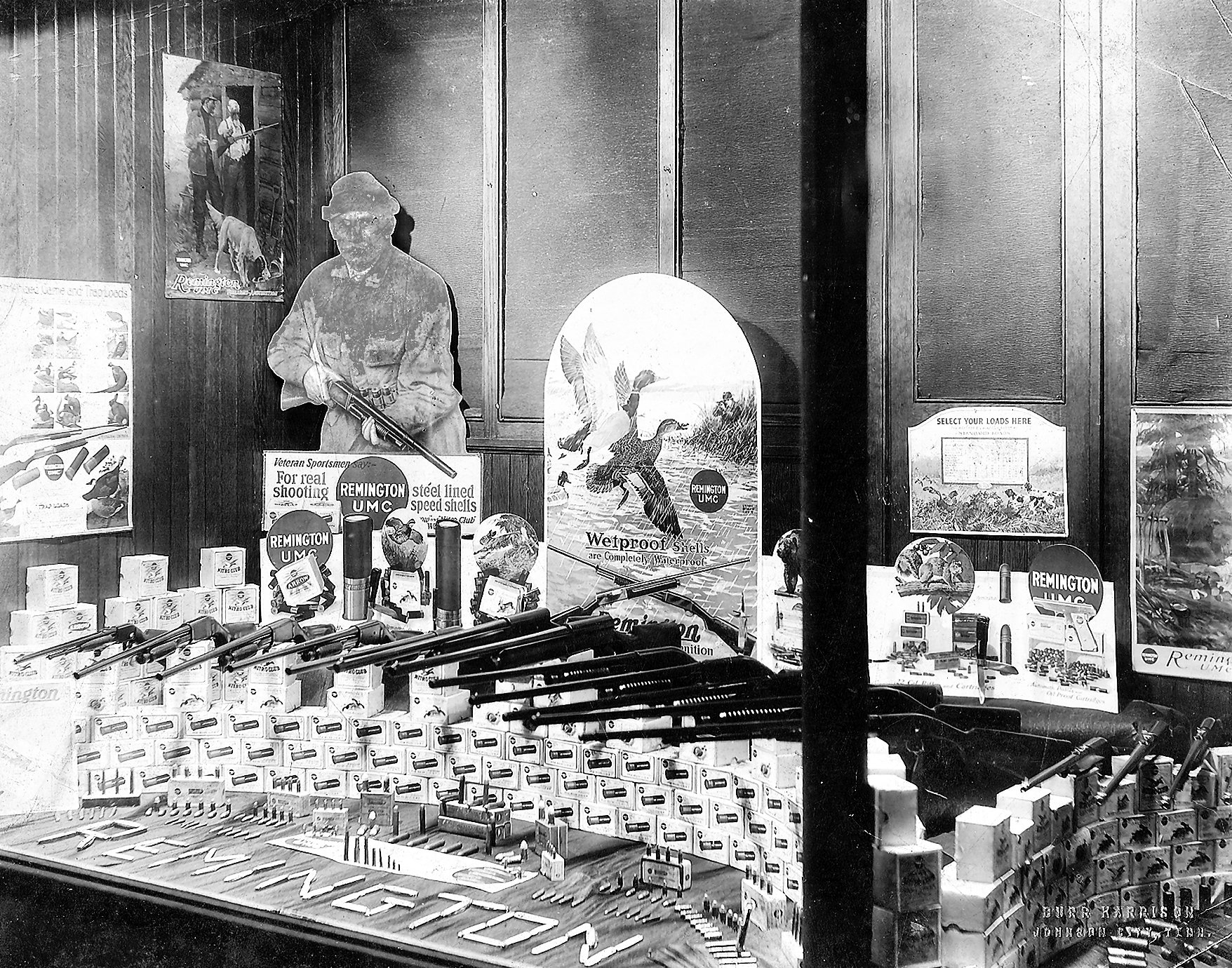 Hardware Age 1922
Hardware Age 1922
---
---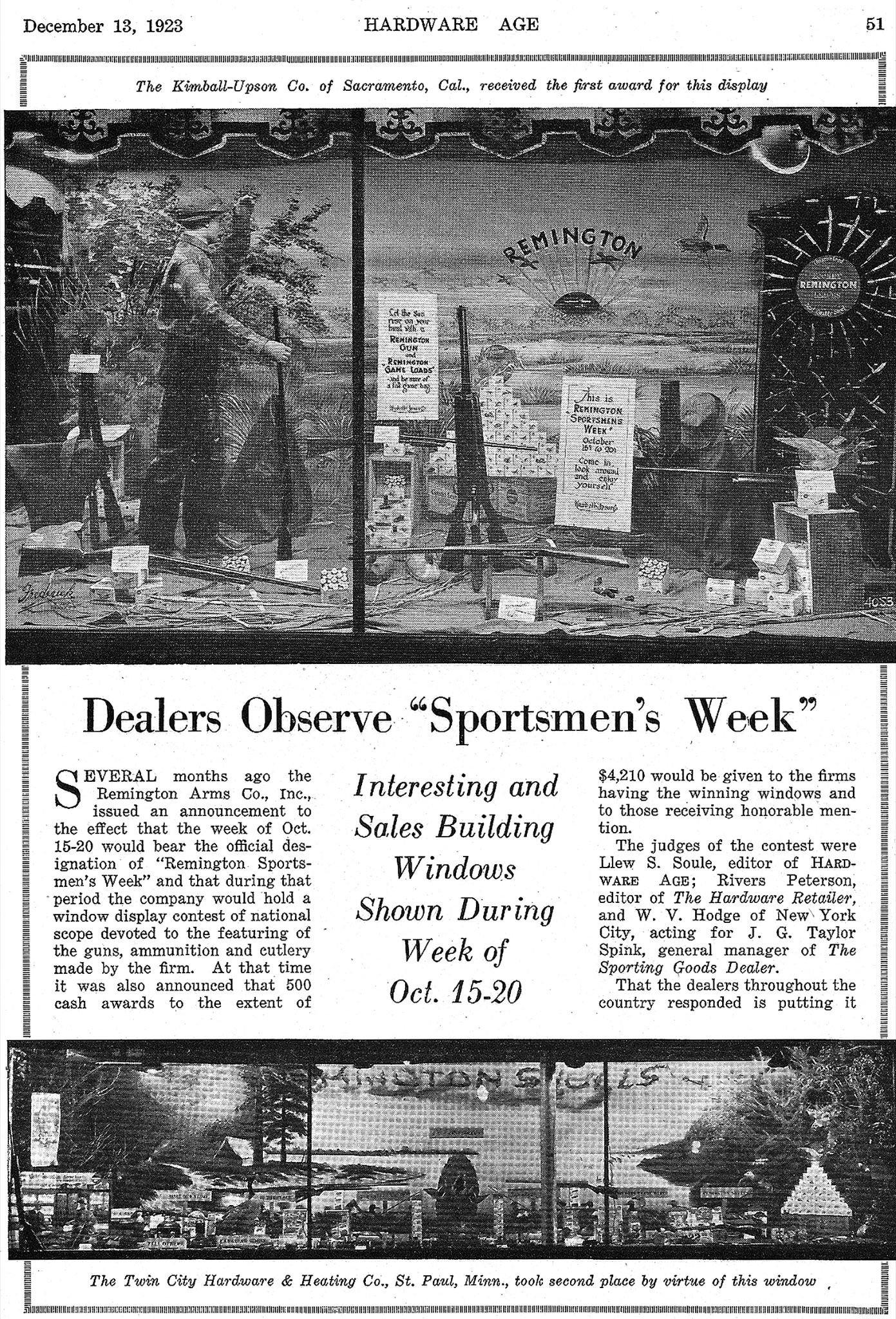 ---
---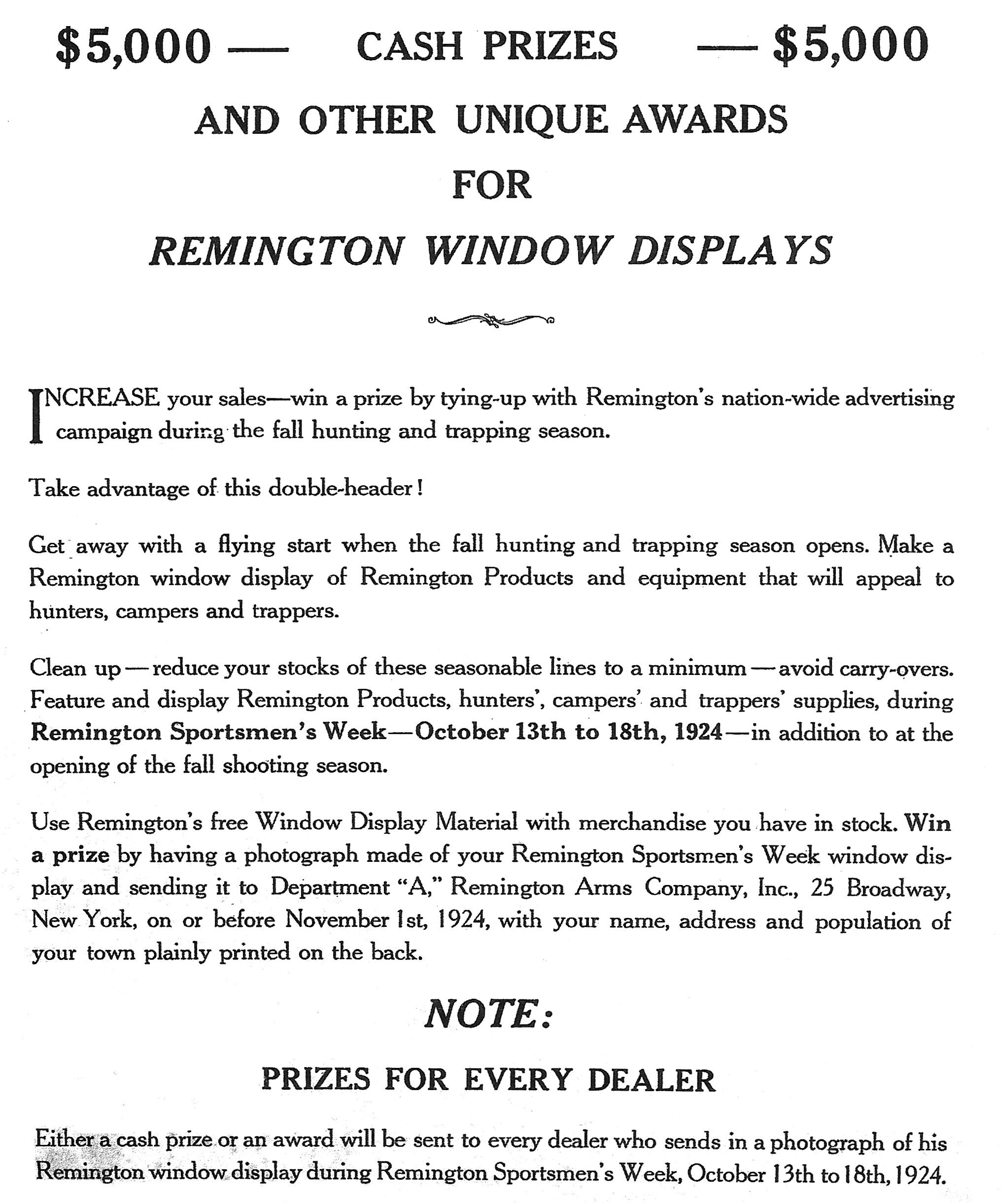 ---
---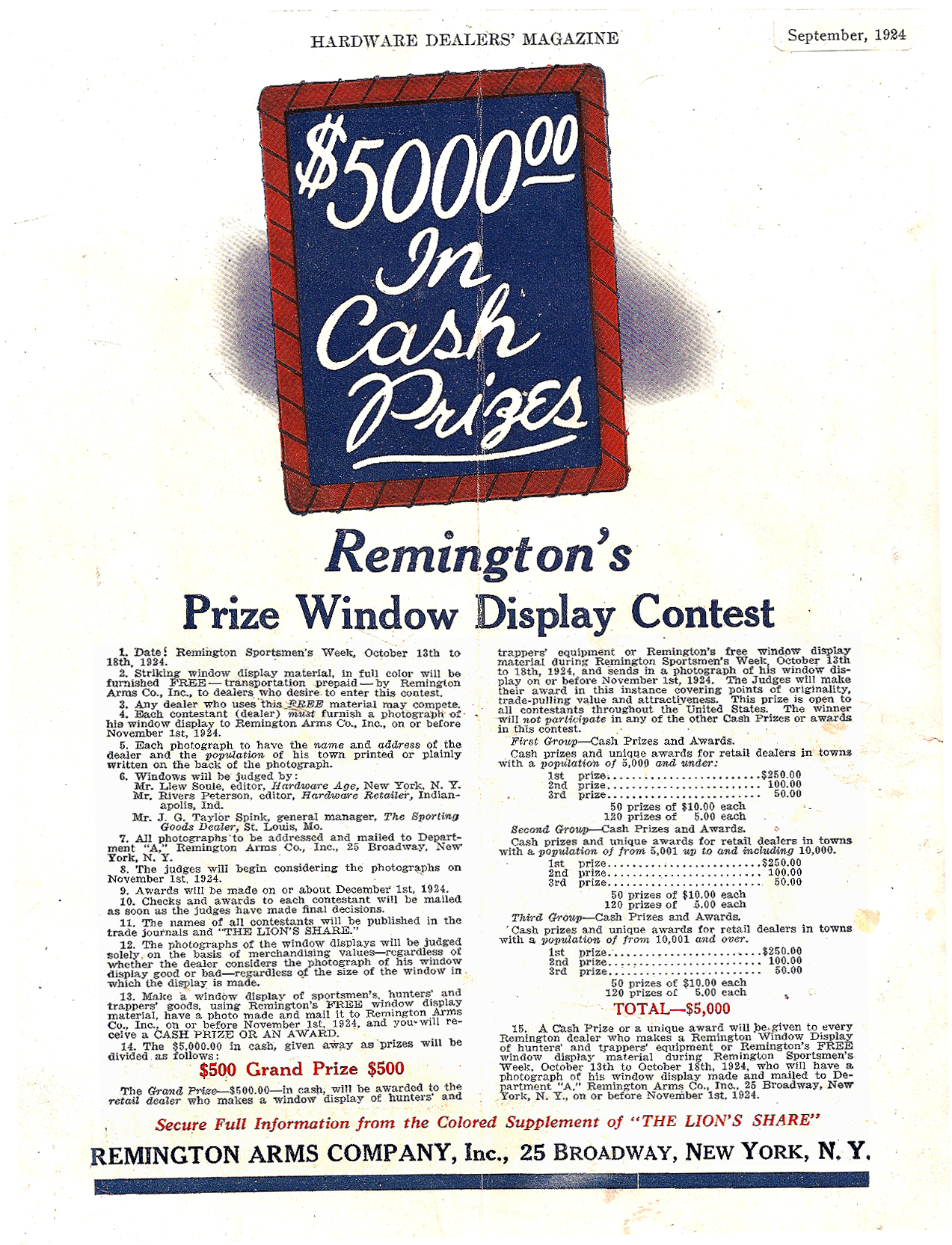 ---
---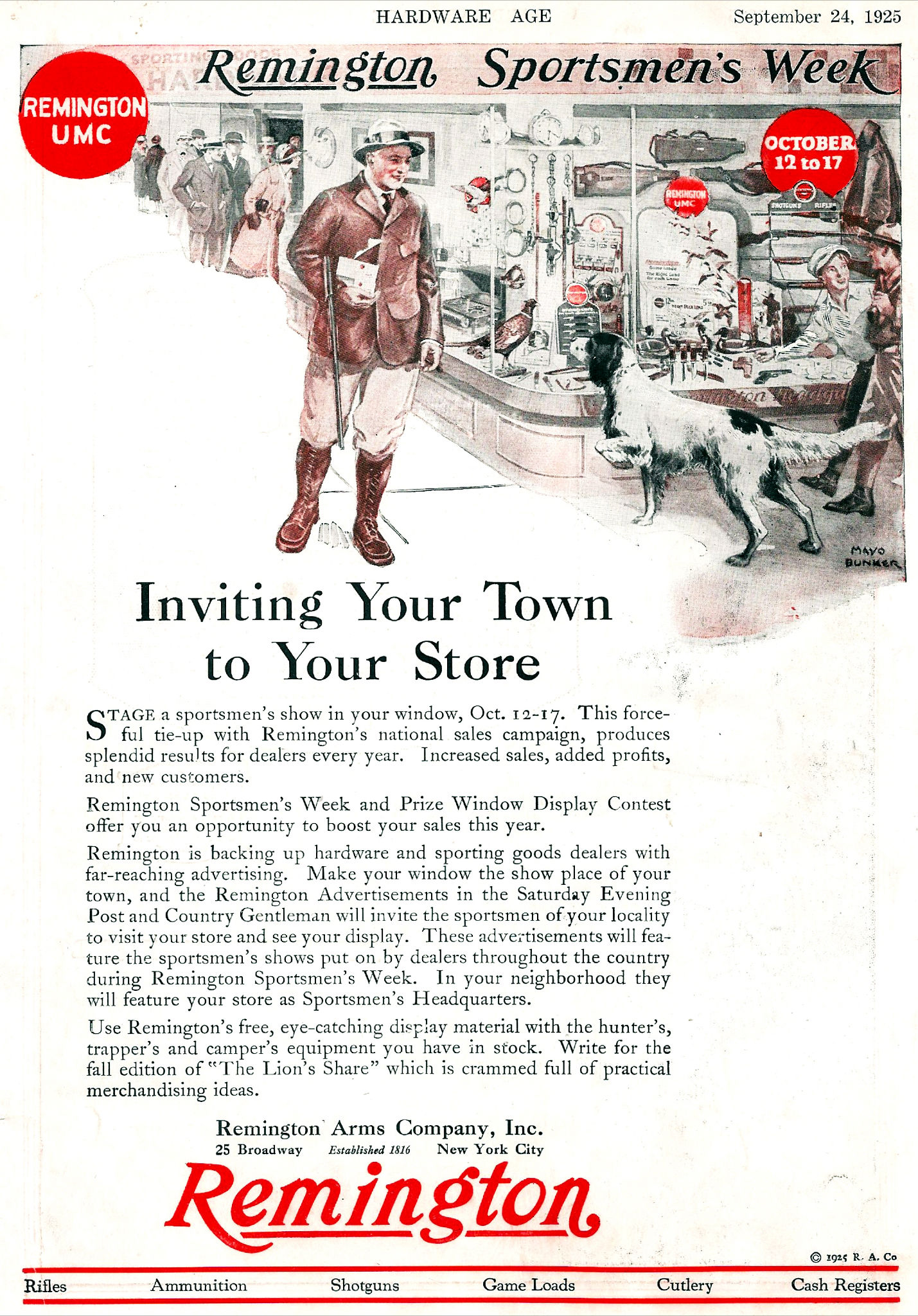 ---
---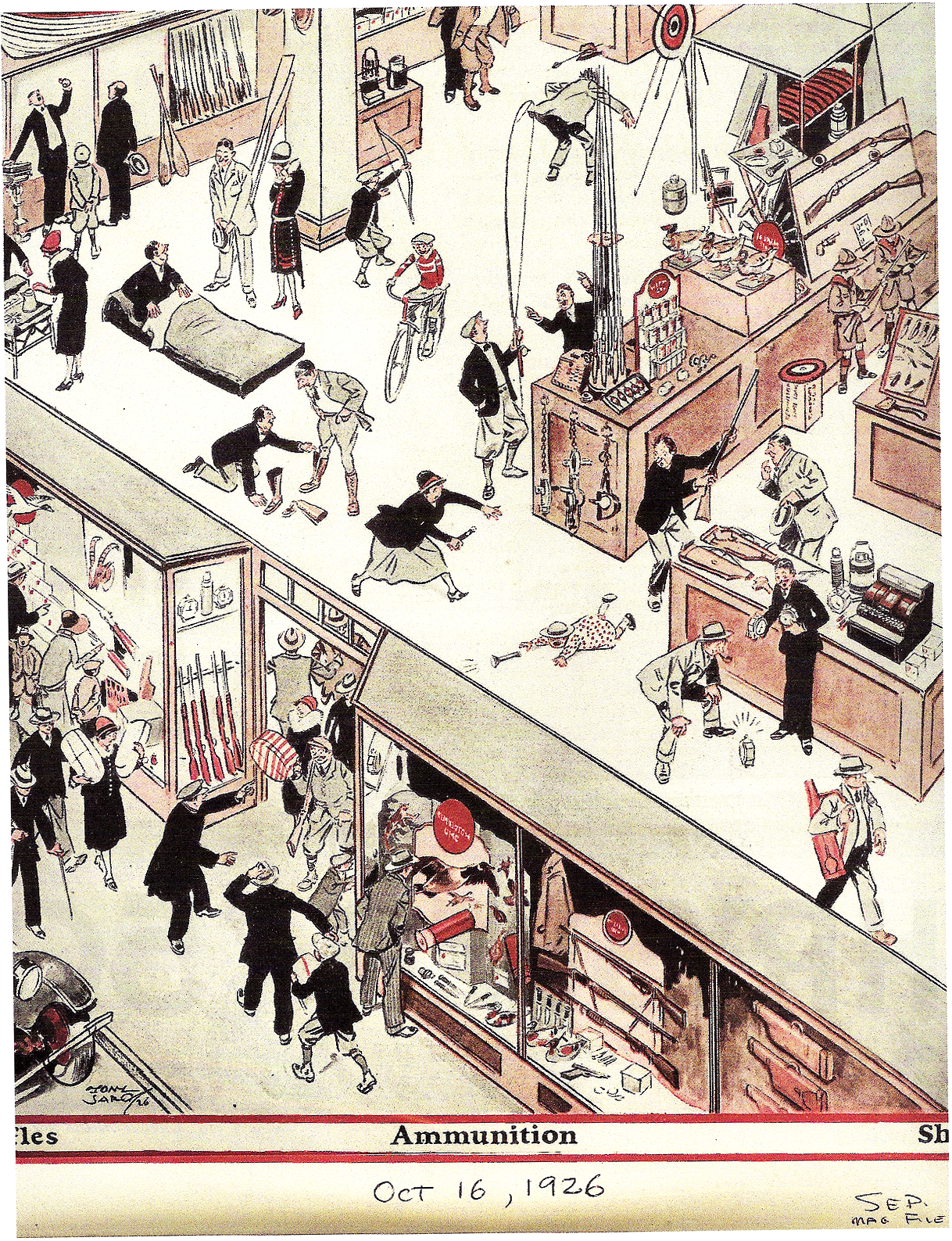 ---
---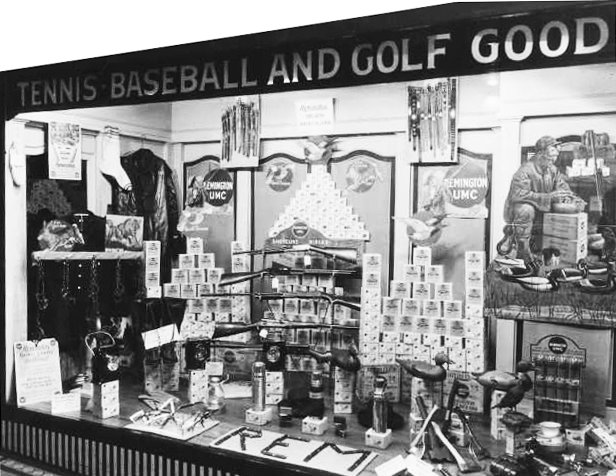 Kimball's Gun Store, Tacoma, Washington – Hardware Age – October 1924

Hardware Age – 1928
---
---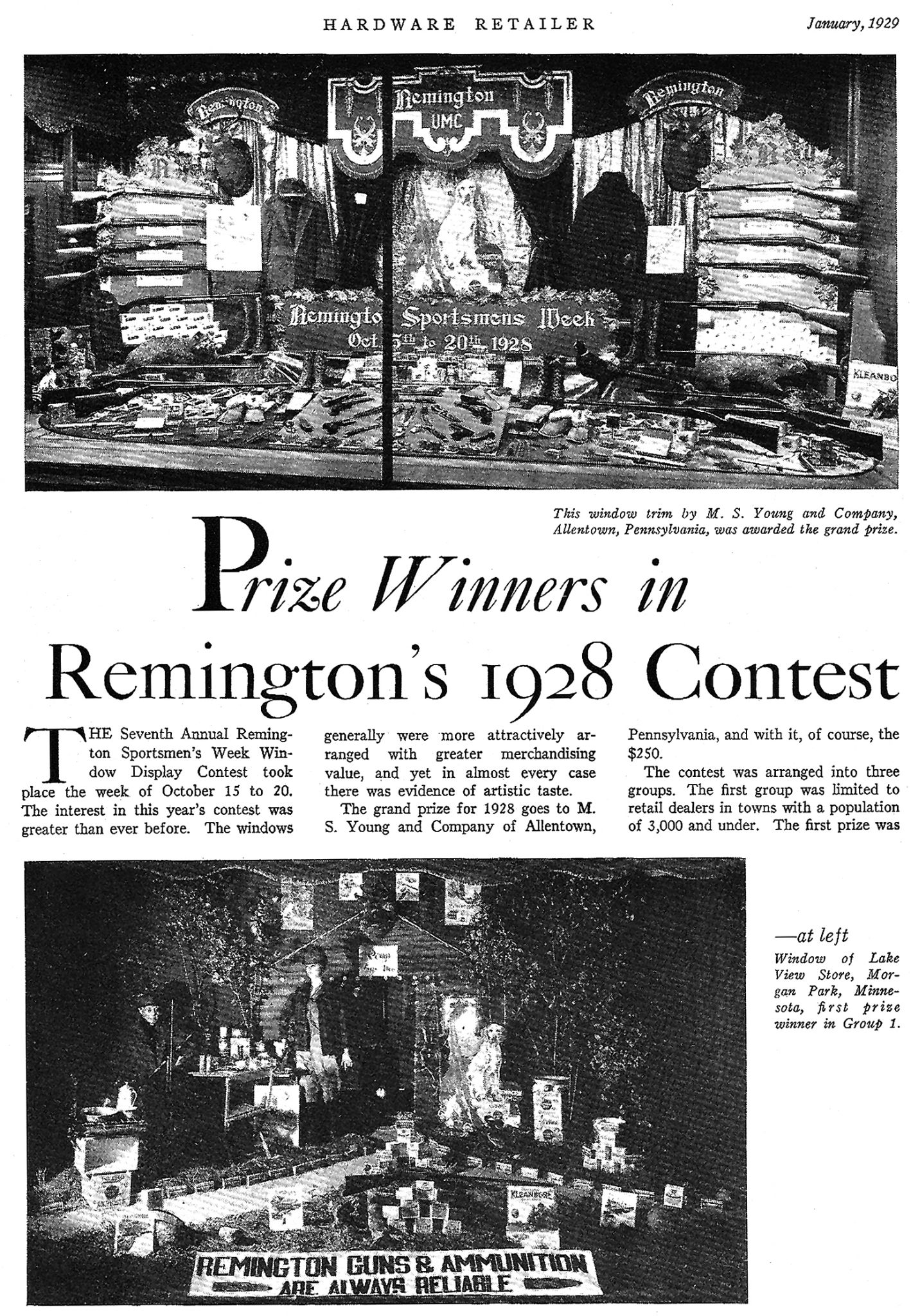 ---
---
---
---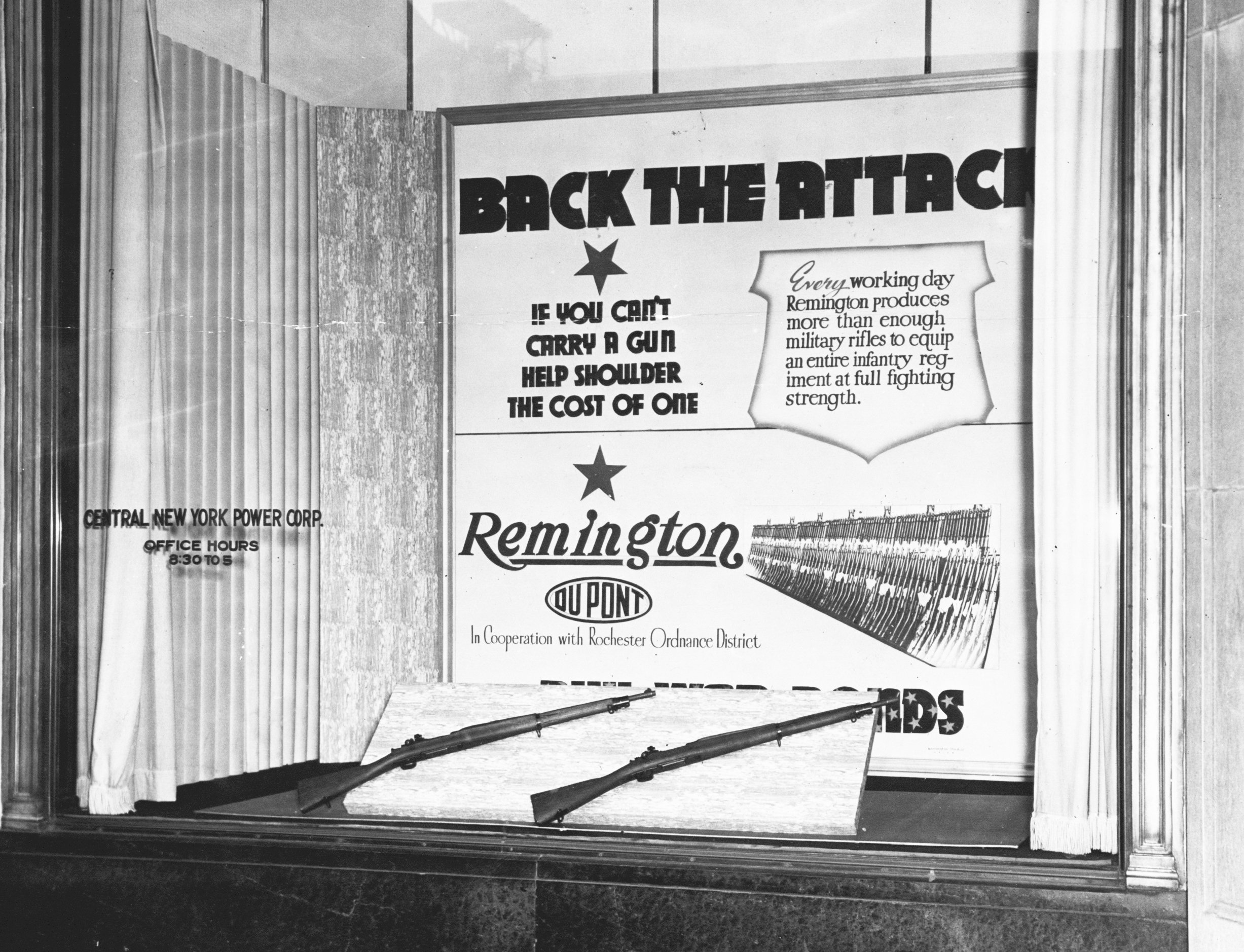 Patriotic storefront display at the Central New York Power Corporation – Ilion, New York – circa 1943.
Reminton Arms Company display in an undisclosed storefront in downtown Ilion, New York during the company's 150th Anniversary in 1966.
---
---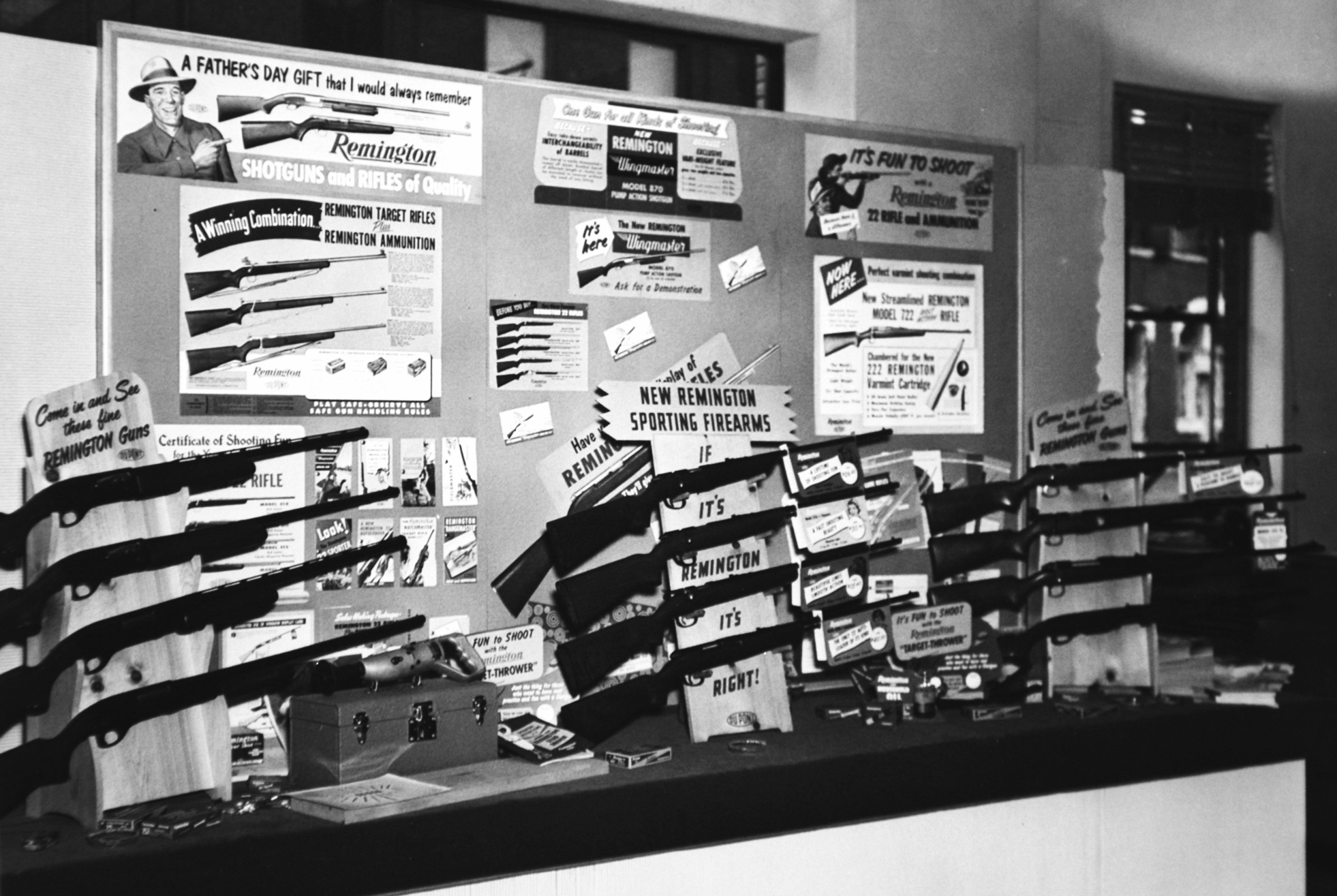 These two pictures are
also from Remington's
150th Anniversary
celebrations during
1966, and are two other
storefront window
displays in downtown
Ilion. It is believed that
Remington put these
displays up with their
own products.

Remington no longer
distributes the array of
advertising materials as
they did decades ago.
Alas, the days of storefront
window displays
are over, and we may
never again see such an
array of firearms,
ammunition and
advertising materials.
---
---