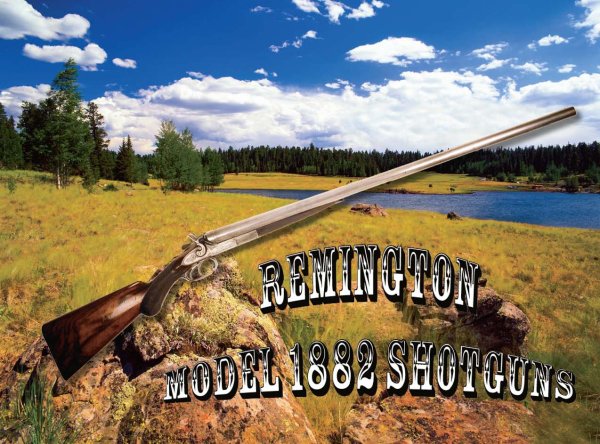 Article and Photography by Charles Semmer
In 1882, E. Remington & Sons discontinued production of
various "Whitmore Hammer Lifter" and "Lifter" shotguns
and began to manufacture the new Remington Model
1882 double shotgun. Model 1882 hammer shotguns have
the more popular rotating top lever for opening the action
versus Remingtons's earlier Whitmore, which was a thumblifting
action. The new double shotgun still contained the
double bolt locking system and also had rebounding locks
(designed by L. L. Hepburn for the second model Whitmore
of 1875). These features continued to be present throughout
the future models of Remington hammer guns. The forend
catch of the Model 1882 is the patent design of Deeley &
Edge of England, who authorized permission to E. Remington
& Sons for it's use. All Model 1882 shotguns have extension
ribs.

We don't know why, but for some reason E.
Remington & Sons continued to use percussion fences on
the bolsters as they did with the earlier Whitmore guns.
Perhaps for an appealing look, but we find there is no
practical reason for the fences. The hammer design was
changed and is still quite tall. Because of that arrangement a
person can cock these hammers quite fast, even while
wearing gloves.

The Remington Armory did not yet offer 16 gauge.
Model 1882 shotguns were only offered in 12 and 10 gauge. .
Measurements of a number of frame sizes conclude there are
only two, and that dimension is across the bolsters. Other
frame measurements tend to be alike, whether a 10 or 12
gauge gun. Later on, when Remington came out with a new
Model 1885 shotgun, there is another smaller frame designed
for the first introduction of 16 gauge.
There are few catalogs available that give us
information as to grading the Model 1882. The early catalogs
of 1882 and 1883 show five grades that were offered for this
shotgun:

| | |
| --- | --- |
| No.1 | Plain Walnut stock, checkered grip and forend, Decarbonized Steel Barrels. |
| No.2 | Selected Walnut stocks, checkered grip and forend, Twist Steel Barrels. |
| No.3 | Selected Walnut stocks, checkered grip and forend, Laminated Steel Barrels, engraved. |
| No.4 | English Walnut stocks, checkered grip and forend, Damascus Steel Barrels, engraved |
| No.5 | English Walnut stocks, Checkered grip and forend, Damascus Steel barrels, engraved, Superior Rubber Butt and tip. |
---
---
Notice that in the early Remington catalogs the Grade 3 is noted to be engraved and contains Laminated Steel barrels. The last E. Remington & Sons catalog of 1887 indicates there are seven grades of the Model 1882 and that the Grade 4 is the one that contains engraving, but had Damascus barrels, not Laminated steel. Grade 3 in that catalog is not engraved, but still shows that it has Laminated steel barrels.
Confusion can exist as to when and at what grade does the engraving begin. The serial number of the particular gun will help in whether a person has a grade 3 or 4. Model 1882 was produced from 1882 to 1888 and approximately 16,000 were made. Serial numbers started at 1,000. The Grade 4 pictured here is in the upper 10,000 serial range and obviously has Damascus barrels. This is the reason we call this particular gun a Grade 4 and not a Grade 3.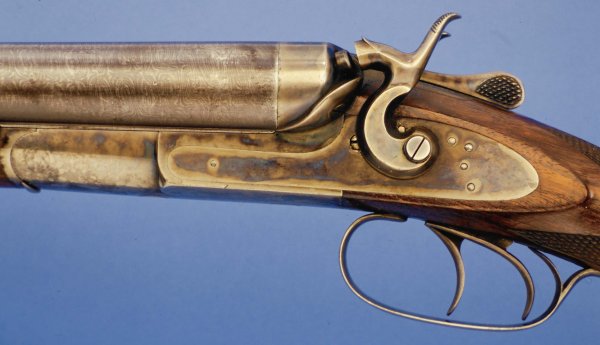 Remington Model 1882 Shotgun – Grade 2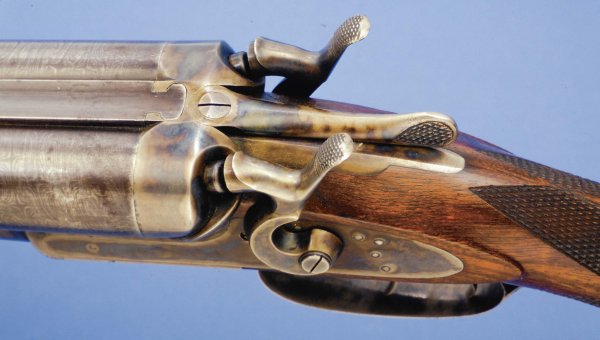 Remington Model 1882 Shotgun – Grade 2 – Top View
---
---
Interesting that the Grade 2 illustrated on the previous page does not have Twist Steel barrels, but a different type of unusual Damascus. In later years Remington referred to this Damascus as "Boston N". This individual gun is a late 12000 serial number and possibly the reason for these exceptional barrels. Also, the walnut stock illustrated on this Grade 2 is typical of that grade offered.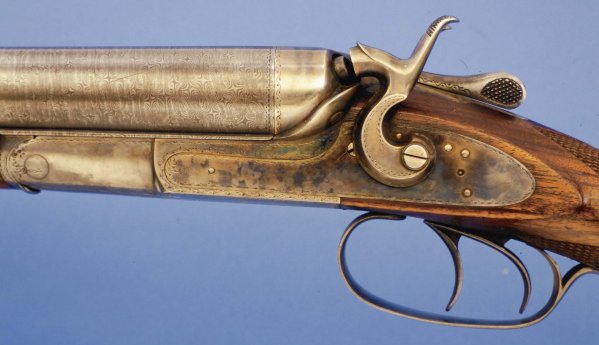 Remington Model 1882 Shotgun – Grade 4 – Side View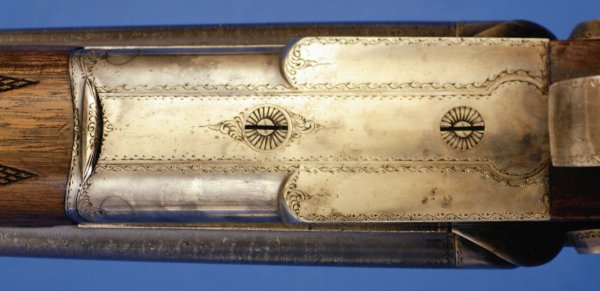 Remington Model 1882 Shotgun – Grade 4 – Bottom View
The Grade 6 that is illustrated is the only one known at this time. Though well worn, this rare shotgun contains a very fine Damascus pattern found on some of the high-grade English doubles. This finely engraved gun contains a very unusual forend tip design not found on any high-grade 1882 known to date. It also has the Super ior Rubber butt attached to a very handsome stock of English walnut. Other high grades encountered with rubber butts are checkered like this but have a large diamond design surrounding each stock screw.
---
---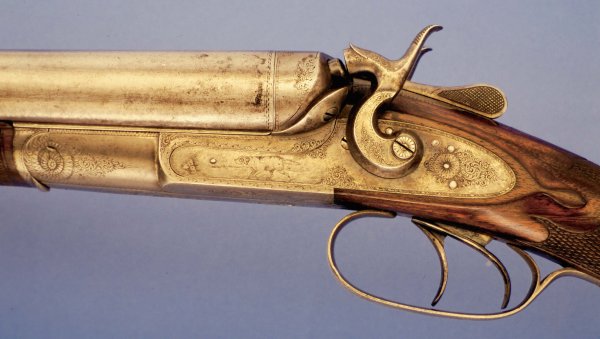 Remington Model 1882 Shotgun – Grade 6 – Side View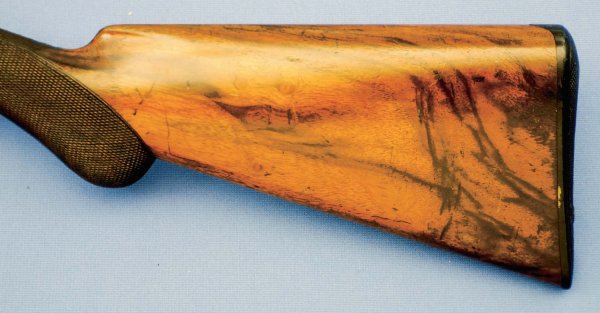 Remington Model 1882 Shotgun – Grade 6 – Fancy English Walnut Stock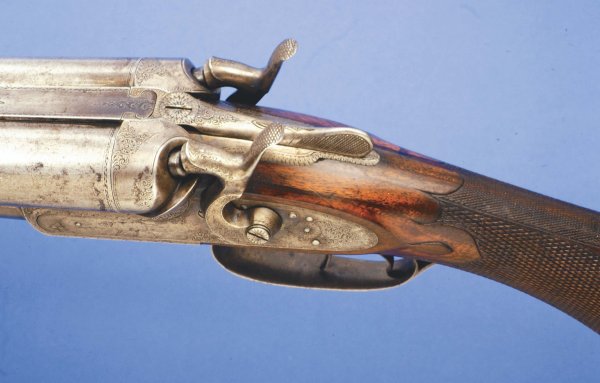 Remington Model 1882 Shotgun – Grade 6 – Top View
Note the stock spear point and the fine top checkers panel
---
---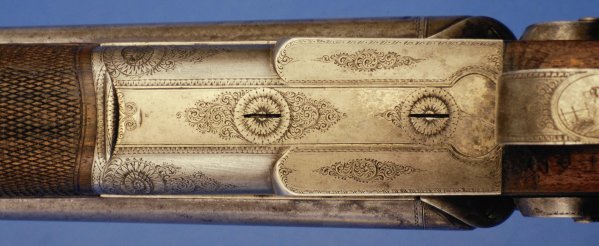 Remington Model 1882 Shotgun – Grade 6 – Bottom View Close-up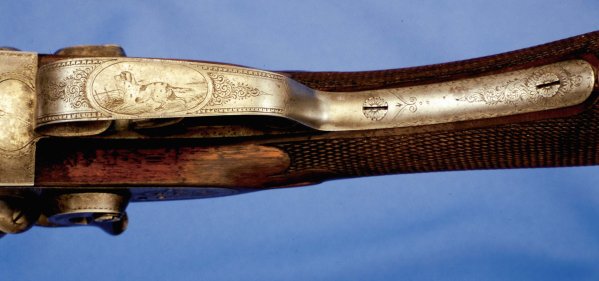 Remington Model 1882 Shotgun – Grade 6 – Bottom View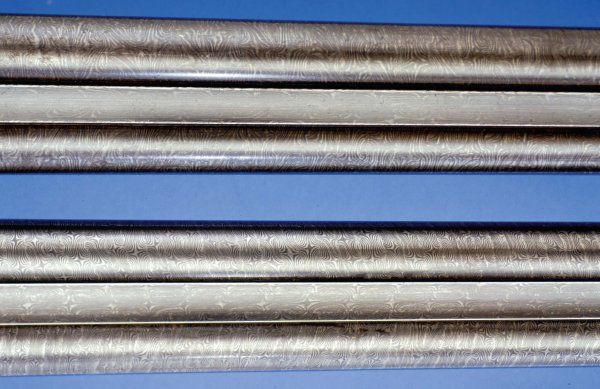 Typical Grade 4 barrels (bottom) compared to a set of "Boston N" barrels top
---
---
Model 1882 shotguns were never offered as a combination gun or double rifle, as were early Whitmore double guns. Possibly due to manufacturing costs or lack of sales, E. Remington & Sons decided to drop those rare types of double guns. Another reason may be the excessive weight. Of the very few I have had the opportunity to examine, they are awfully heavy guns to carry afield. Instead, Remington offered an auxiliary rifle barrel insert. These were made full length to fit the shotgun barrel, and made with a threaded portion extending beyond the muzzle of the shotgun barrel and held in place by a round nut keeping it centered in the shotgun bore. The inserts contained their own extractors and had an index tab at the rear to insure alignment when removed and replaced. Center fire Black Powder cartridges of the period were available and are so marked on the inserts, Known examples are .38-55 centerfire and .40-70 centerfire. It was stated in the catalogs that, "these barrels are not adapted for high pressure smokeless powder cartridges". Model 1882 shotgun that were originally made for rifle inserts will contain sights secured on the barrel rib the same as the ones found on Whit more combos and double rifles.
The Remington Model 1882 double is a strong and reliable shotgun that is in dema nd today as we do not encounter many being offered at quality gun shows. They are an excellent example of the high quality firearms manufacturing at Ilion, New York "Americas Oldest Gunmaker".



Hard rubber but plate found on high grade found on 1882 shotgun.


Unique, one-of-a-kind forend tip of a Model 1882 Grade 6 shotgun (left) compared to a forend of a Grade 4 shotgun (right).
---
---