The Complete Book on
Remington .22 Rifles!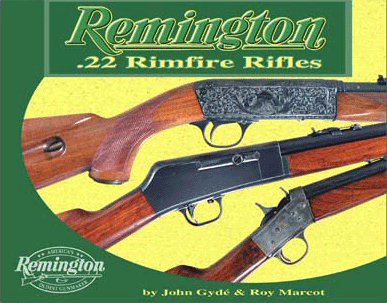 After a sixteen year study, noted .22 collector John Gyde and Remington Historian Roy Marcot have
completed their long-awaited book. Published in April 2007, this hard cover, full-color, 388 page book
features over 1,000 full color photographs and illustrations.

Every model Remington .22 rifle is described in detail, from the earliest in 1866 to the latest rifles

introduced in 2006. A special section covers Remington .22 prototype rifles… unique systems that

never made it past R &amp D.
SHANDRA'S BOOKS
attn: Jim Bateman
3399 CREEK VIEW DRIVE
MEDFORD, OR 97504
(925) 260-9025

Standard Edition – $nnn (out-of-print)
Deluxe Edition – $nnn (out-of-print)
Call for Availability
Amazon

Plus $4 postage.
Online Purchase:
Remington .22 Rimfire Rifles; The Complete Book on Remington .22 Rifles

B
A
C
K



C
O
V
E
R