It's Just An Old Knife…


by George McAllister



About four years ago I got a phone call from a gentleman who lives in a small town some 40 miles south of me. He introduced himself and asked, "Are you the guy
who buys old guns?" Well, I always like to get calls like that so I answered "Yes sir, that's me, what do you have?" He said he had a couple of old Japanese rifles, bayonets and other stuff that his brother-in-law had brought back from the Pacific after World War II. He told me they were cleaning up and getting rid of a bunch of junk and wanted this stuff out of the house. I told him I didn't know much about those things, but I'd be happy to look at what he had, and I might be interested in buying. We set a meeting time for the following day, and he and his wife drove up to my house with the "stuff."
After introductions, coffee and some chitchat, he went to his car and brought out the guns and a cardboard box with the rest of the "stuff." He had two kind of rough (imagine that) Arisaka rifles, two equally rough bayonets, and several full ammo pouches along with about a dozen, full bullet clips. In the bottom of the box was a dirty Remington fixed blade knife, still in the sheath. I asked

"What's the story on the Remington knife?" He replied "Oh it's just an old knife my brother-in-law carried while he was in the war." We settled on a price, and I bought his "stuff."
I cleaned up the old guns and bayonets and then called a fellow I had met at some shows who buys and sells WWII items. After swapping emails and pictures we agreed on a price for all of the WWII items and told him that I would deliver them at an upcoming show.

I kept the knife, even though it was in pretty rough shape. It was not rusty, but badly tarnished and stained from sitting in the sheath for years. The leather grip was nicked, and dirty. The knife showed much evidence of having been "rode hard and put up wet." The sheath was dirty and stained, but otherwise not in bad shape. The stitching was good and the rivets were all in place. The retaining strap wasn't broken and the original snap worked just fine with a little cleaning and light oil. On the top, front face of the sheath just below where the knife enters was the name "POWELL", neatly
---
---

inscribed in block letters and set in a rectangle with a red back- ground.
First I cleaned, polished and sharpened the blade. It isn't perfect but it looks good. The grip is made of stacked, leather washers with red and black colored fiber and nickel silver spacers at the top and bottom. The pommel is aluminum and the half guard is nickel silver. A little bit of light sanding removed most of the nicks from the leather washers. Saddle soap and a good buffing with some canvas and Flitz gave the leather and spacers a nice sheen. A coat of Renaissance wax and the old knife looked pretty dang good. Some saddle soap and gentle scrubbing did the trick on the sheath. Another coat of Renaissance wax gave the sheath a pleasing sheen. All of this was accomplished over several evenings from my recliner while watching TV. Not a bad way to end the day.
The Remington knife has RH32 marked on the 4 ½ inch blade just above the guard and on the other side is the underlined Remington logo over DuPont in a circle. According to Rich Shepler, these knives with DuPont markings were made from 1933 to 1940. It wasn't uncommon for soldiers and sailors to bring knives with them when they entered the service during WWII. Some bought the knives new; others just brought along their old hunting knives.
A look through D.Y. Grimm's book: Identification Guide to Remington Sheath Knives – 1925 to 1940 told me that the RH32 knife was introduced in 1925, and discontinued in 1940.
Each year since I got the knife I've taken it with me deer hunting and have used it to skin at least one deer each year. It has become my lucky knife. According to the man I got the knife from, Mr. Powell passed away many years ago. Wherever he is, I hope he's happy knowing his knife is being used and cared for and will be passed along when I'm through with it. It's my tribute to an old soldier.
A collectible doesn't have to be high end, rare, or expensive to be worth having. Heck, they probably made thousands of these knives from 1933 to 1940; they're still fairly common today. If it gives you personal pleasure, then it's worth having and preserving. I encourage each reader to share his stories and collectibles with the rest of us. We'd enjoy reading the story and seeing the pictures.
---
---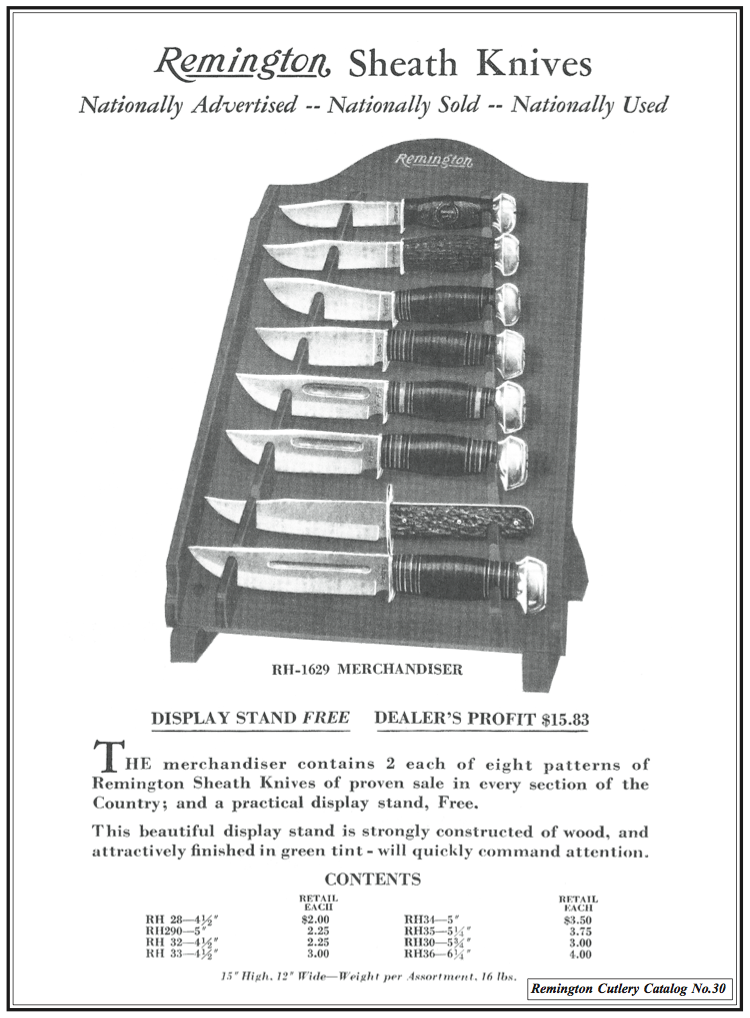 ---
---