| | | |
| --- | --- | --- |
| A typical Model 1887, Grade 2 hammer Remington compared to the hammerless conversion by L. P. Diss. | | |
| Prototype hammerless shotgun by Louis Diss | | |
Jay Huber, a Director of the Remington Society of America, is a person devoted history, research, and collecting most anything related to the Remington companies. Through Jay's efforts, Gene Myszkowski, author of The Remington-Lee Rifle, came up with the Louis P. Diss patent of May 22, 1888. In my book Remington Double Shotguns, page 113 relates to a hammer gun converted to hammerless as possibly being done by LeFever.

Because of these gentlemen, we now know the Louis P. Diss is the one who designed and possibly built this conversion shotgun. In various census reports he is listed as a machinist with the company, but whether he actually made the parts for the conversion remains unknown.

H. J. (Jerry) Swinney, associate curator of history at the Rochester Museum and Science Center in New York (now deceased), supplied the following information about Mr. Diss.

Louis Diss was born in France about 1845 and came to Ilion around 1850 with his parents. His father, Leger, is listed in the Census of the State of New York, 1855, as a gunsmith. The fact that Leger is described as a gunsmith may or may not be significant. Some census marshals tended to identify anyone who worked for E. Remington as a gunsmith. Nevertheless, Leger had six children, one being Louis, though we are not sure if he was a first or second child at the time of this census.
---
---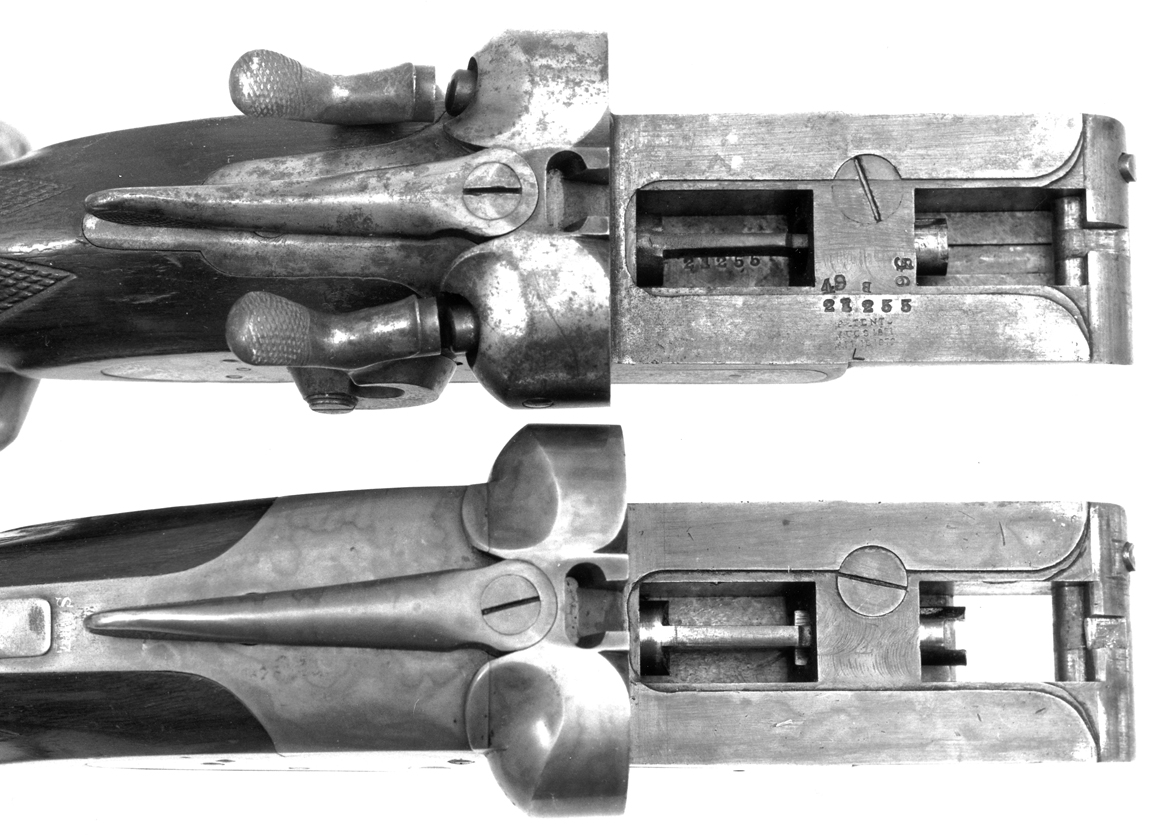 Frame of the Diss gun (below) shows the forward removal of the original trigger plate and locking-bolt alteration compared to an 1887. No serial number appears anywhere on the Diss gun.

The fact that Leger is described as a gunsmith may or may
not be significant. Some census marshals tended to identify
anyone who worked for E. Remington as a gunsmith. Nevertheless,
Leger had six children, one being Louis, though we
are not sure if he was a first or second child at the time of this
census.

Louis P. Diss appears in the Census of the United States, 1880, under German Flats, Herkimer County, New York. The census, you see, was organized by towns, not villages. Diss lived in the Village of Ilion and is listed, "Diss, Louis, age 35, machinist." In later years, Diss worked for Remington. Whether he designed this conversion while working for Remington is not clear. He is known to have worked closely with James P. Lee in refining the Remington-Lee magazine rifle for production at Remington.

In 1994, when Jay Huber sent me copies of the Diss patent, I did not recognize that it was a conversion from a hammer gun; in fact, I thought it was a new design of a hammerless shotgun. The drawing shows a single trigger which confused me. I believe Diss did not show the second trigger, as it would have made the drawing a bit confusing. In his explanation of the workings of his invention, he always uses the plural word "triggers."

Some time after my book went to press, something bothered me and I became more and more inquisitive. I looked a little more carefully at my few photos of this gun in comparison with the patent and then finally noticed that the configuration of the frame and safety slide was exactly like the "Sheet 2" drawing of the Diss patent.

To verify that this gun was the one Louis Diss converted, I had to get it back for more photos to make a positive identification. The American Arms and Art Museum was most gracious in sending me the gun for this article. Consequently, I came to believe this is the only gun that Diss produced as a prototype with the hope that Remington Arms Company would accept the idea and convert their hammer guns. This particular shotgun is an E. Remington & Sons Model 1887, but in 1888 the company was in bankruptcy and resurfaced as the Remington Arms Company.

This gun does not contain any serial number on the frame, forend, or barrels. Mr. Diss, no doubt, got a blank frame from the bin and modified it to his hammerless design. The frame definitely is of a Model 1887 hammer gun, but it was not yet drilled for firing pins. Careful examination verifies this as seen in the illustrations. A front part of the original trigger plate was removed to accommodate his new design of the extractor cam.
---
---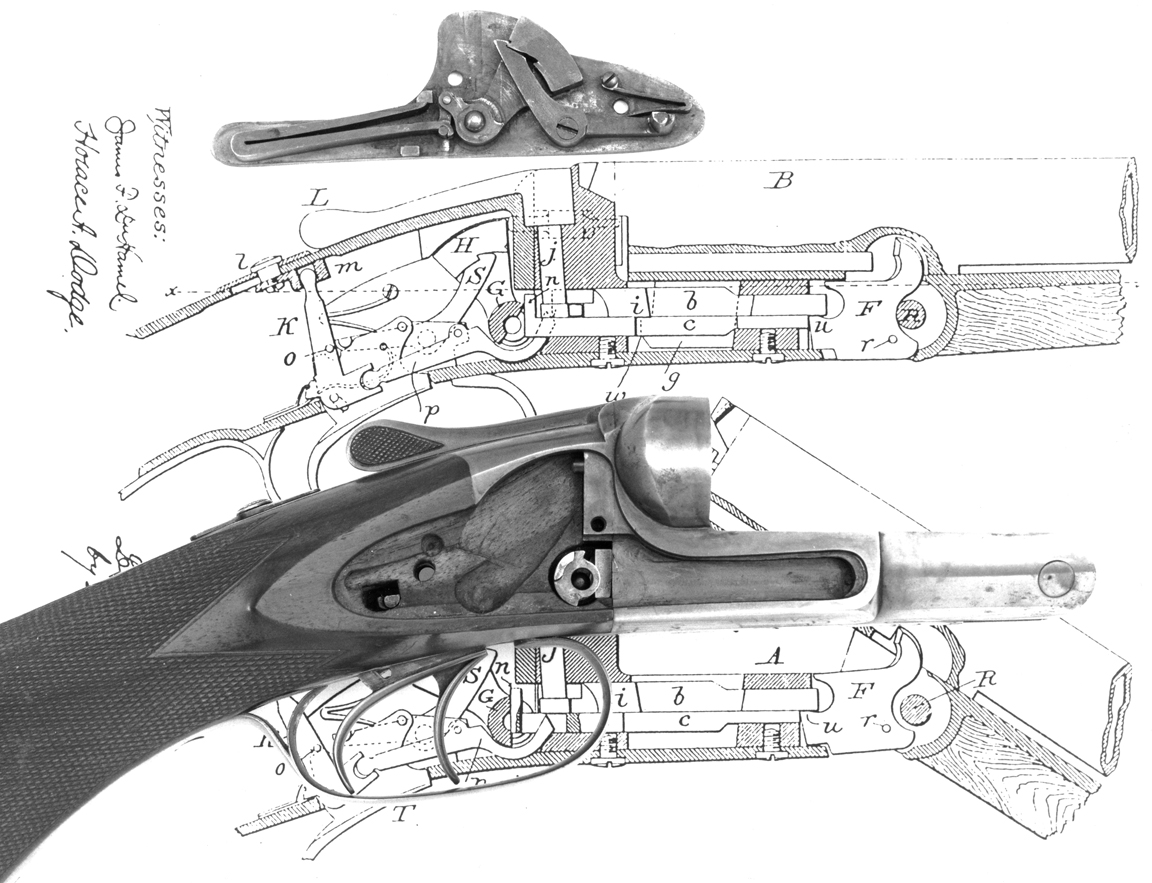 Notice the Diss drawing of parts H and S (hammer and sear) compared to the actual lock. Also note part G (a semicircular rocker) compared to the actual rocker in the gun. The rocker draws the hammers to full cock when the gun is fully opened. Intemal firing pins through the bolsters are spring loaded.

We have always thought serial numbers were not stamped on Remington double guns until they were hand fitted and complete before going to color casehardening and barrel browning. I feel this gun proves the theory.

Except for the converted side locks and some internal parts, everything else is of a Model 1887 shotgun. The barrels are of a Grade 2 twist steel. You can see the similar comparison to a regular Grade 2 hammer gun in the illustrations. The only stampings underneath the barrels of the Diss gun are a P and the number 8. These identical stampings are on the other Model 1887 barrels. The P we are quite sure is Remington's proof stamp; the number 8 may be the type of twist steel.

It is a much accepted fact that after a gun was finished and stocked, it would then be checkered. The checker pattern on this Diss gun is not what we usually see on a Grade 2. I think Mr. Diss wanted to present his conversion a handsomely as possible and so had the checkering done similar to what is seen on a Grade 4 hammer gun.

The overall condition of this one-of-a-kind shotgun is excellent. Color case-hardening is a little dull, but very distinct. I would have

loved to have completely disassembled this gun to see more of the interior, but it was not mine. Permission was granted to remove the right lock so we could see part of the interior. This was enough to be certain the gun is identical to the patent drawings of Louis P. Diss. I personally did not operate the gun, but am told by those who have (with snap caps) that the gun functions flawlessly. After the gun is fired, upon opening, the hammers are cocked and the safety slide back to safe position which locks the hammers, much like any automatic safety on a double hammerless shotgun. One point about the conversion, it is an extractor gun and does not automatically eject fired shells.

As final proof, a Remington memo dated "N.Y. Sept. 14th-1889," was unearthed, which reads:

"Memorandum left by Mr. Diss. He proposes to dispose to the Remington Arms Company of his model shotgun and patent covering same, for, he says, $2,000. He also says the Remington Arms Company has some tools now used in making their hammer gun that would work into the manufacture of the hammerless."
---
---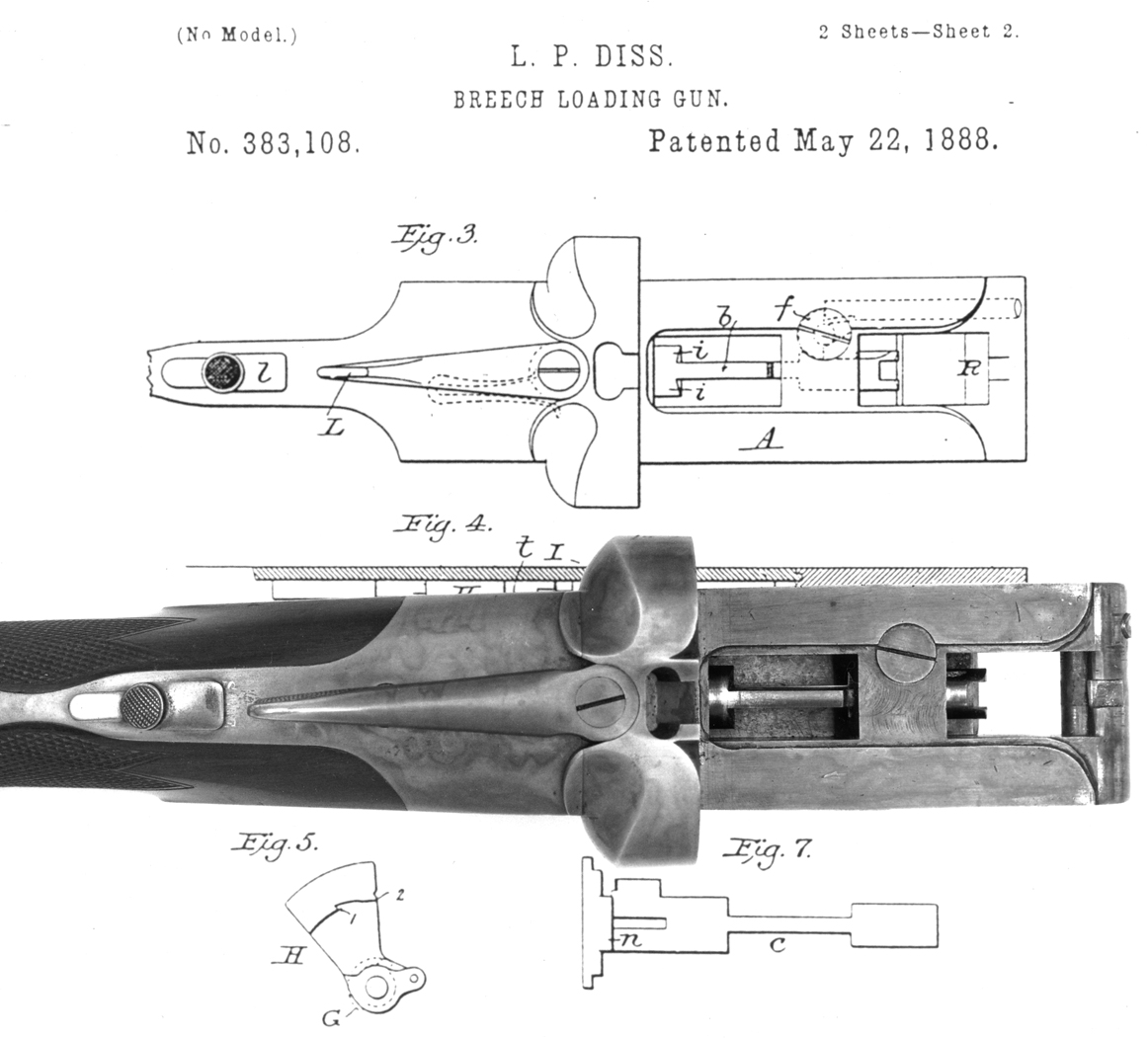 Consideration might have been given, but Remington Arms went to the designs of R. C. Fay and G. E. Humphreys for their Model 1894 hammerless shotgun. I do not think there is any doubt left as to the designer of this very important Remington hammerless double. My sincere thanks to Allen Morris, Jay Huber and Gene Myszkowski for allowing me to present this final solution.

All photographs by Charles Semmer.
---
---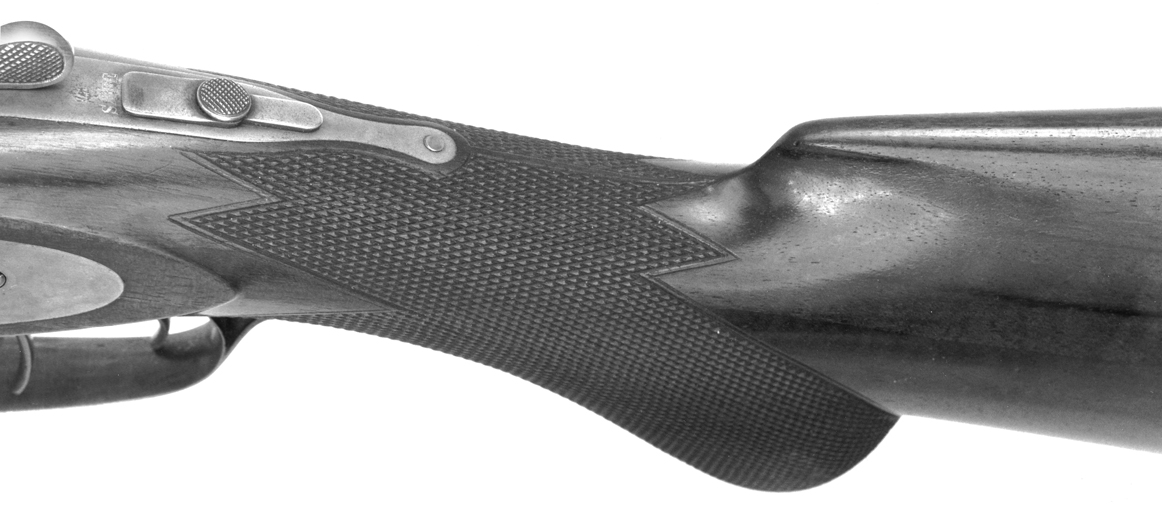 Normally this checker design would be found on a Grade 4 hammer gun.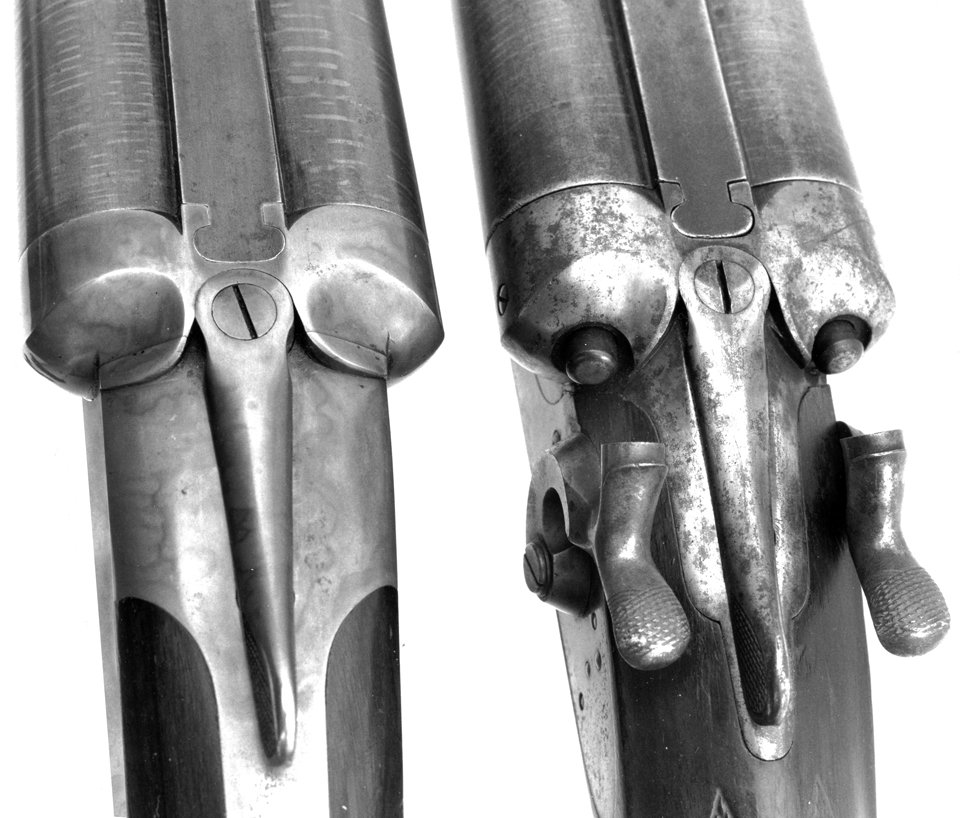 Comparison of an 1887 hammer gun to the conversion. Notice there is no indication of the bolsters on the Diss gun being drilled for firing pins, nor indication of its sides being drilled for firing pin retaining screws.

---
---