Roy Marcot of the NRA Gun Collector's Committee presents the 2nd Runner-Up
Best of Show award to RSA member JD Hofer.

Jim Tipton displayed his high-grade Remington autoloading shotguns at the
Houston Gun Show.


J.D. Hofer poses proudly in front of his award-winning deplay of E. Remington &
Sons' firearms.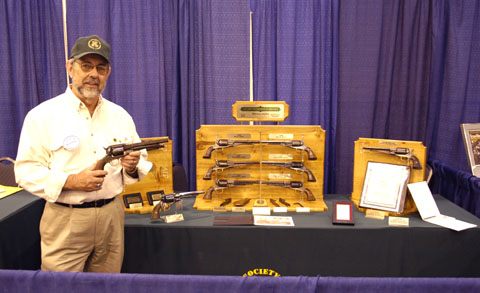 RSA member George McAllister brought a find display of martially-marked
Remington percussion revolversall the way from Baton Rouge.


RSA President George Slatten chats with Jim Tipton, RSA's Houston Gun Show
table coordinator


RSA Journal Editor Roy Marcot welcomes our newest member, Larry, into
the Remington Society.


Jip Tipton, current RSA President George Slatten, JD Hofer and prior
RSA President Gordon Stanley in from of JD's award-winning display.


Close-up view of the award plaque presented to JD Hofer


Detail view of the right side of JD's display.


Detail view of the left side of JD's display.


Detail view of the center of JD's display.


George and Myra McAllister pose in front of their outstanding display
of Remington revolvers


RSA Presedent George Slatten congratulates George McAllister on his fine display.


Aen Phan and Myra McAllister "man" the RSA table at the Houston Gun Show.