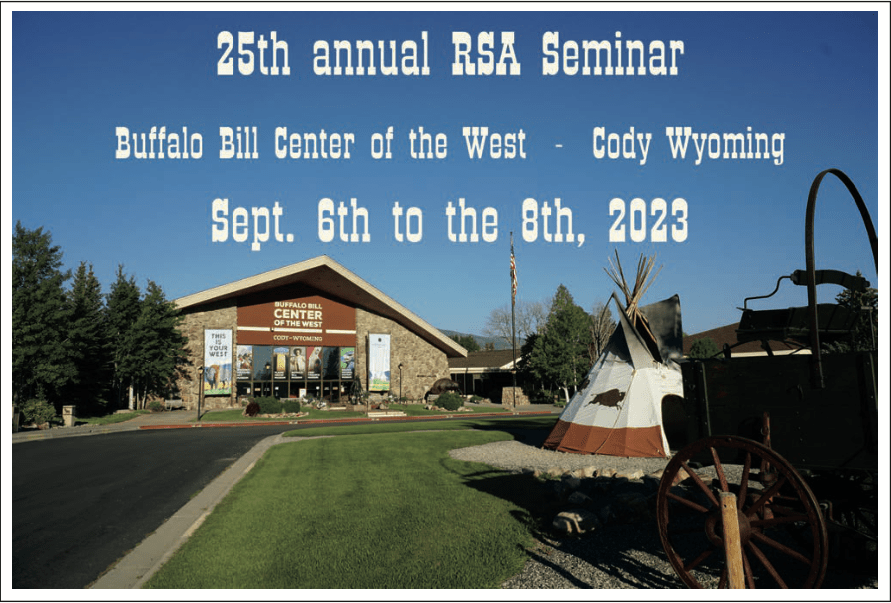 25th annual RSA Seminar – Buffalo Bill Center of the West
Sept. 6th to the 8th, 2023
$175 fee per attendee
Come join the RSA for two days at the Buffalo Bill Center of the West for the 25th Annual RSA Seminar. With five museums (Whitney Western Art Museum, Draper Natural History Museum, Plains Indian Museum, Buffalo Bill Museum and The Cody Firearms Museum) there is something for everyone to see.
There are room blocks established from Sept 1st to the 11th that have been set aside for the RSA members at two different hotels, located in the same block, with a shared parking lot and owned by the same owners.
Comfort Inn – Cody (307) 587-5556 (use code A4RSG) $164 per night
(free breakfast) 20 rooms available.
Buffalo Bill Village – Cody (307) 587-5544 (use code A3RSG) $144 per night. No free breakfast. 10 rooms available. Leave message (cabins open up in May) Hotel Reservation deadline July 1st 2023 with 72 hr. cancellation.
More details to come in a RSA email blast.
Michael Alsop
RSA Vice President & Seminar Coordinator
(540) 847-2123
malsop73@gmail.com