I just acquired an Argentine .43 Spanish Remington Rolling Block.
Nice rifle - the rifle is in great condition - the Stock has been brutalized over time.
Right now, for reasons I don't fully understand, Brass is as scarce as "Hen's Teeth" !
Buffalo Arms in Idaho has sold .43 Spanish Brass, but is the Proverbially "Out
of Stock" ! So is everywhere else I can find. Production must be at a standstill.....
Looking at the Buffalo Arms web site, one sees that the Brass they were selling is made
from 50-110 Starline !
Nice that they let me know that bit of information !
Here is what is/was on BA's web page......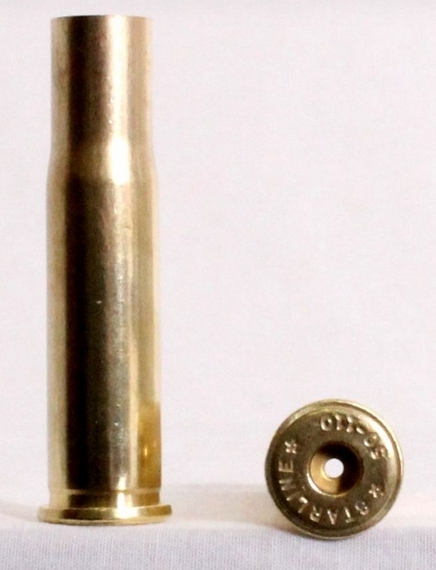 Being a resourceful fellow, I just recently obtained 40 Starline 50-110 cases for $1.73 each.
I found a LEE .43 Spanish Two Die Set AND a used Lyman 439186 Estate Sale Mold (e-bay) -
370 grain bullet. . . . . .
Note .43 Spanish

≠

.43 Egyptian !

So - here is what I came up with all by my lonesome. In the form of TWO pictures, it is
summarized. If I can do it - YOU can do it. I did use a Lathe for some minor trimming,
but you might be able to use an Electric Drill or a Drill Press and a FILE. Have fun ! I am....
Here is what each portion looks like as you do them -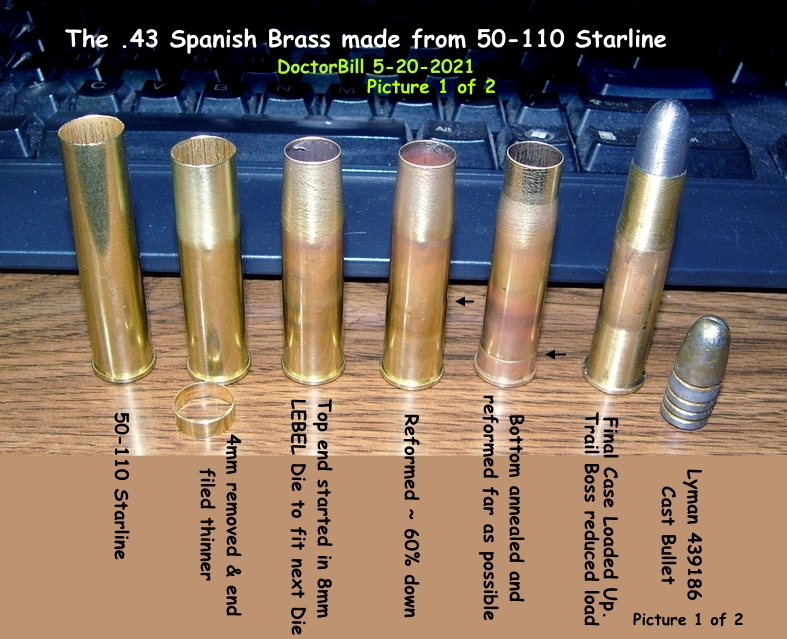 BTW - The 50-110 is too wide to enter the Lee .43 Spanish Die, so that is the reason that I
pushed it into an 8mm LEBEL die
first
- to reduce the top end diameter enough to allow the
unformed Case to even go into the LEE .43 Spanish !
When all was done and a case loaded up - it wouldn't go into battery ! Figured out that the
case neck metal was too thick - that is why the neck is filed down (on the lathe) from about
16 thousandths to 9 or 10 thousandths. NOW it fits the rifle.
Here is the "Lathe" work, but you could probably do with a Drill (Press) ......(?)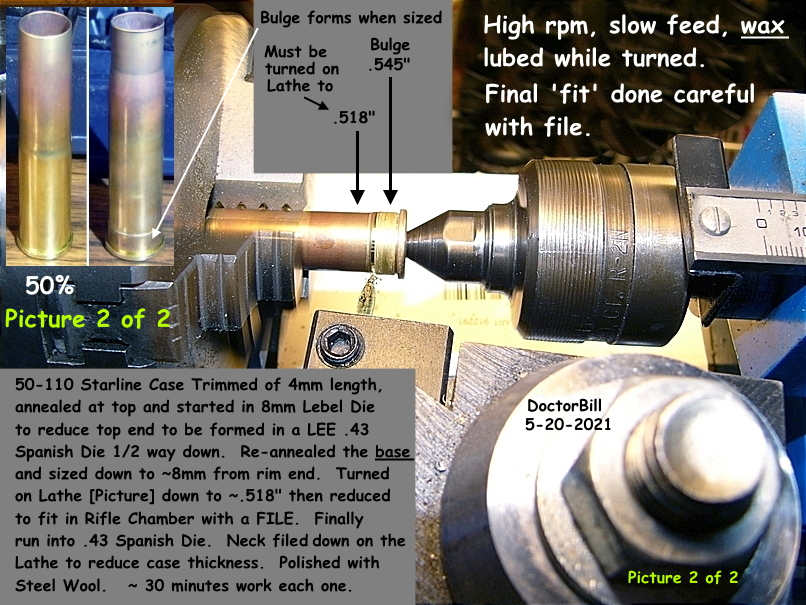 This took about 30 minutes for each Case. But - I am 78 and 'retired' from all the Bullroar
job duties, so I am enjoying the "Hobby Work" so to say. Love to know just how the Buffalo Arms
"Jobber" is making theirs. Hydraulics ? If you are out there - let me know ! I'll keep your secret....
Have not shot any off yet - just started this project two days ago. Will "FireForm" the Brass at the
Local Rifle Range with 12 gr of Trail Boss. I shoot reduced loads in old BP rifles for obvious reasons.
These old Remington Rollers were made strong - Nitrocellulose Gun Powder had just come into being
(Paul M. E. Vieillea - Frenchman - Wikipedia) about that time, so they anticipated it, so to say.
DoctorBill