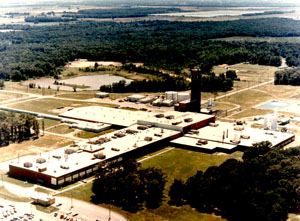 The 7th Annual RSA Seminar
was held on September 26th, 27th and 28th of 2001, at
the Remington Ammunition Plant in Lonoke, Arkansas.
The 3-day event was well attended by 52 RSA members
and about 25 spouses and guests. Activities included
extensive plant tours of rimfire, centerfire and
shotshell manufacturing, historical lectures on UMC and
Remington ammunition, and a trap & skeet shoot on
Remington's shotgun range.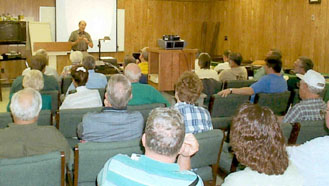 Wednesday, September 26th
Opening get-together with arriving RSA members,
followed by a discussion of the upcoming activities by
the seminar coordinator Jay Huber.
Thursday, September 27th
Attendees arrived at the Remington plant at 9:00 AM
for an orientation by Remington VP Paul Cahan, a
lecture on the Remington Archives in Ilion, and a tour
of Rimfire Cartridge Production (hosted by Remington
Chief Engineer Vince Scarlata). An afternoon historical
lecture on the Remington Industrial Gun was given by
Remington Sales Rep Bill Conrad, and then everyone was
given a tour of Centerfire Rifle & Pistol
Ammunition Production.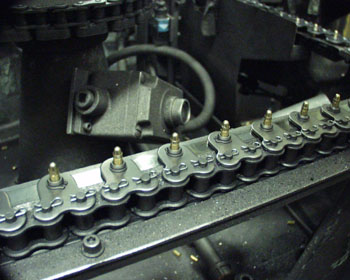 Remington makes billions of 22 cartridges every
year in the Lonoke, Arkansas plant.
Friday, September 28th
Morning tour of Shotshell Production. Afternoon
historical lectures, and then the attendees went to the
Remington Trap & Skeet Range for an "all you can
shoot" afternoon with Remington's newest shotguns and
complimentary ammo. The day concluded with a
southern-style "pig roast" banquet.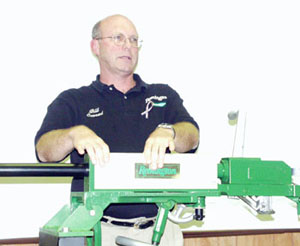 Paul Conrad, Remington Sales Rep for the Remington
Industrial Gun.
RSA members were encouraged to bring historical
displays of Remington firearms, Remington or UMC
ammunition, and other related historical materials. An
outstanding display of Remington derringers was put on
by John and Gretchen Battaglia.
Our host was Paul Cahan, Remington's VP of Ammunition
& Firearms Production, and our Seminar coordinators
were Jay and Hannelore Huber.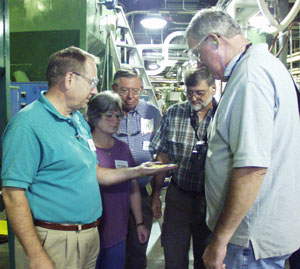 Attendees were given an in-depth tour of every
manufacturing line at the plant.
Lectures included:
The Remington Archives in Ilion, New York –
by Roy Marcot
The Remington "Master Blaster" Industrial Gun
– by Bill Conrad
The Remington Cutlery Business – by Jay
Huber
Care and Cleaning of Collector Ammo – by Lou
Behling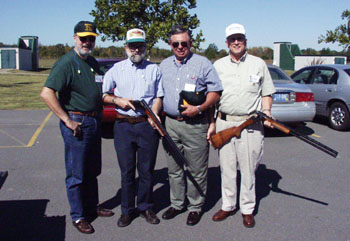 Remington treated the attendees to an afternoon of
trap and skeet shooting at the Remington Gun
Club.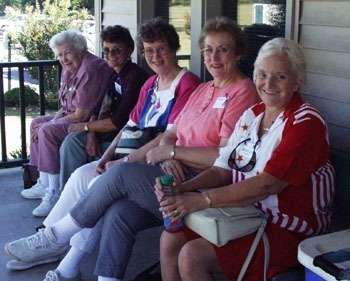 Even the ladies enjoyed the seminar
activities.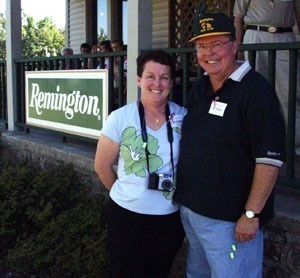 Sue and Bob Creamer enjoyed RSA's 3-day
event.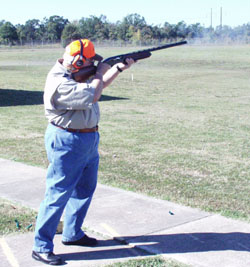 RSA Director Lee Estabrook powders a clay target
on the Trap Range.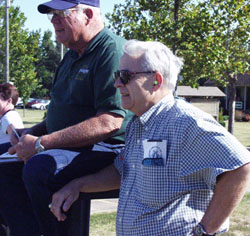 RSA Vice President Jack Heath looks on while other
attendees "busted the birds" on the Trap
Range.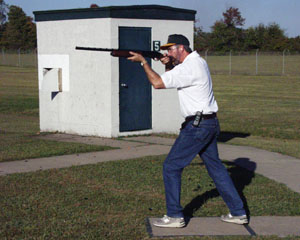 RSA VP George Slatten shows off his "trap
stance".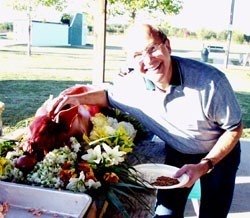 Remington VP Paul Cahan mugs with the roast pig at
the final picnic on Friday afternoon.