RSA held its 2nd Annual
Seminar in Lonoke, Arkansas at the site of the
Remington ammunition factory. The three- day
festivities began on Wednesday evening, July 26th, with
a get-together buffet. Old friends met new ones, and
half there had attended the 1st Annual RSA Seminar in
Ilion the year before!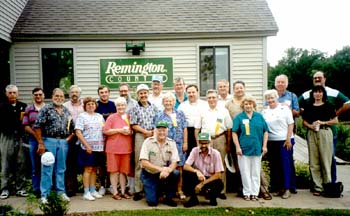 Lonoke is where Remington makes billions (yes,
billions) of rounds of rimfire, centerfire and
shotshell ammunition each year. The plant is located on
1,400 acres of lush Arkansas land, which doubles as a
game preserve to protect native wildlife. Nearby is
Remington's Trap, Skeet and Sporting Clays range, which
is open to the public.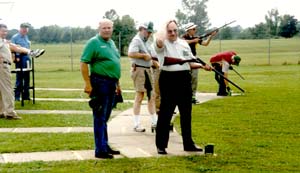 In 1994, the Remington Ammunition Plant made
1,300,000,000 rounds of .22 rimfire 500,000,000 rounds
of centerfire ammo, 300,000,000 shotshells and
600,000,000 primer. Over 300,000,000 rounds were made
for the U.S. Government during this period.
More than 6, 100,000 rounds of .22 rimfire are made
each day! That's a lot of lead, brass, gunpowder,
fulminate and cardboard (containers). The plant is
working three shifts a day, six days a week to keep up
with demand. Remington makes ammunition for domestic
U.S. sporting use and for international customers.
Sportsmen love Remington ammo!
There are 1,175 workers are here – Remington is the
area's primary employer. The plant consists of more
than 750,000 square feet of production facilities under
roof. Remington Arms Company, Inc. moved here more than
twenty-five years ago – from Bridgeport, where U.M.C.
was founded in 1866. The move was made on July 23,
1969, and ammunition production commenced one year
later in July 1970.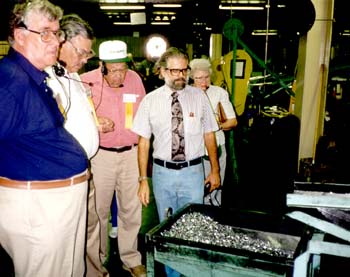 On Thursday, RSA members in attendance were treated to
walking tours of the factory. Host John Croucher,
Shotshell Superintendent, and his crew of supervisors
were our guides on separate tours of the three
production lines. We were surprised to learn that most
of the equipment seen in this moden plant was moved
from Bridgeport – including the lead forming mechanism
in the shot tower! Forty to eighty-year machinery still
pumps out the ammo – and it never seems to wear out.
The tours covered virtually every step in the
manufacture of shot-shells, centerfire and rimfire
ammunition. This was a unique experience.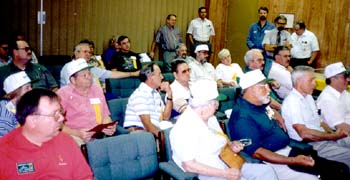 Following the plant tours, the RSA membership were
treated to a number of outstanding historical lectures
on Remington and U.M.C. ammunition, including:
Denver Ammo Plant Production During WWII; E. Remington
& Sons Ammunition; Remington's Brimsdown, England
Loading Plant; U.M.C. and Rem-UMC Ammo; Modern-Day Ammo
Manufacturing; and Remington's Ammunition Plants During
WWII.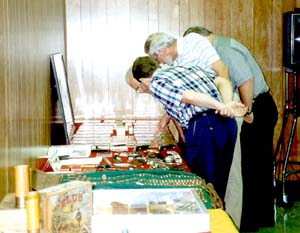 Attendees at the seminar brought many historic and
collectable Remington firearms, cartridges and
memorabilia for others to enjoy. Table after table of
Remington history was enjoyed by attendee and plant
worker, alike. RSA hosted Remington dignitaries on
Friday evening at a "pig roast" dinner at the Remington
Gun Club. RSA thanks the Lonoke Vice President of
Manufacturing Paul Cahan, and Superintendent John
Croucher for their Southern hospitality that
was shown RSA during our visit. Special thanks also go
to Vince Scarlata, Joe Reisz, and others for their
concern for our welfare. We could not have had a better
time.
---